Objects as well as people – or maybe objects because of the people associated with them – have stories worth remembering.
Brigham Young married Miriam Works in Haydenville, New York on 5 October 1824 when he was 23 and she was 18. They had two daughters before Miriam contracted tuberculosis and died at age 26, in Mendon, New York (a few miles south of Rochester), a few months after she and Brigham had been baptized as Latter-day Saints.
Miriam died at the home of her good friends Heber C. and Vilate Kimball, who lived about a mile south of the village center at the crossroads known as Tomlinson's Corners, and was buried in the small cemetery a few hundred yards from the Kimball home. Brigham marked her grave with a fieldstone – a rough, uncut rock found on the site – with only "M.Y." chiseled into it. Brigham, Miriam's two daughters, and the Kimballs soon moved to Kirtland, Ohio, trusting that time and vandals would be kind to the grave. "I took pains at the time of her desease [decease]," Brigham wrote many years later, "to have the place distinctly marked, and was quite satisfied that if it had not been interfered with, the stone would readily be found."
Tomlinson's Corners cemetery, on the Broughton Hill Road, was a small one, about 150 yards square. Some markers have undoubtedly been lost over the years, but today 65 gravestones stand there with another 14 graves identified. A modern picture shows a manicured green lawn with upright markers set in careful lines – a photo of the land across the road, though, shows how overgrown the graveyard would naturally be without attention from man.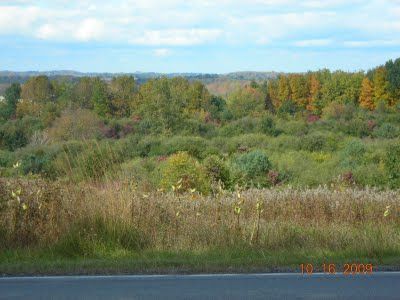 (pictures from The Graveyard Rabbit)
In the mid-1860s, a man named Carlton Silas Miller, from Miller's Corners, a few miles away from Mendon, apparently spent some time in Utah (I haven't yet been able to determine where, or why, or for how long – he was not LDS.) Miller was introduced to Brigham Young and the two men developed a cordial feeling for each other. After Miller returned to New York, he made the effort to seek out the grave of Miriam Works Young and reported to Brigham Young that it was intact, its fieldstone with the chiseled "M.Y." still clearly identifiable.
In 1888, however, the town of Mendon created a new cemetery in the village itself, and the nearby smaller cemeteries – including the one at Tomlinson's Corners – were largely abandoned. Underbrush and trees began to grow among the markers, and debris of all kinds found its way onto the land.
In 1895, B.F. Cummings, the Church's first professional and systematic genealogist, visited the eastern states to study methods employed by the great genealogical libraries, like those of the New York Historic and Genealogical Society and the New England Historic Genealogical Society (both founded in 1845). He also conducted genealogical research on behalf of Utah clients, including the descendants of Heber C. Kimball … which took him to Mendon and the abandoned Tomlinson's Corners cemetery.
Near the end of this row of houses [5 or 6 broken down structures, in one of which Heber C. Kimball had lived] is the little graveyard spoken of. It occupies only a few square rods of ground, fenced off from a potato field, is an obscure post, and is in a neglected condition, being overgrown with weeds and brambles. In this small "God's acre" repose the remains of several persons who will be held in lasting remembrance, because of their relationship to the leaders of latter-day Israel.
Cummings made note of the inscriptions on the gravestones of a half dozen Kimball relatives, but he didn't notice – or didn't know – the significance of the fieldstone with its simple "M.Y." He afterwards visited an 86-year-old man, Daniel Allen, who had long had an interest in the history and graveyards of the area, and who had taken a lead in beautifying the main village cemetery of Mendon. His involvement extended to the collecting of bodies of those associated with Mendon who had died elsewhere for reburial in the village cemetery, and he expressed a keen interest in getting permission from the Young family in Utah to transfer Miriam's grave.
He declared that Mendon had a right to claim Brigham Young as one of her sons, that he was a man of world-wide fame, and that he (Mr. Allen) would like to have the privilege of showing this respect to the remains of the wife of this great man, whom the latter had married and buried in his early manhood.

Mr. Allen added that he had often conducted visitors, who desired to see the grave of Brigham Young's first wife, to the obscure and neglected spot where it lies, and that he and other old residents of the town, would be glad to see her grave in the village cemetery.
No such permission was sent, however, and Miriam's grave remained at Tomlinson's Corners, ever more invisible to casual tourists, but visited by those who had a knowledgeable guide. Apostle John A. Widtsoe, for instance, visited the cemetery in about 1914 and was able to find Miriam's fieldstone.
A local (New York) newspaper mentioned the condition of the grave in a 1921 report on the graves of Mendon's favorite sons, including Brigham Young:
Standing alone is an old field stone with the initials "M. Y." This old stone marks the grave of Brigham Young's first wife. It has been desecrated by relic hunters to such an extent that the letters are now nearly obliterated.
John D. Giles, an elder in charge of the small visitors' bureau near the Hill Cumorah, about 18 miles from Mendon, took an interest in local church history during the early 1940s, and with the help of local resident Joseph Hutchinson located Miriam's grave in 1944 – an act he described as "discovering the grave," perhaps an indication of its overgrown condition and vandalized marker. Giles and some of Miriam's descendants began to make plans to erect a suitable marker on the grave.
By 1948, the marker was ready. Prepared by the Elias Morris monument company of Salt Lake City, under the direction of shop foreman Philip W. Bott (and with the blunder of an unknown person's misspelling of Miriam's birth place of Aurelius, New York), the stone was financed largely (but not exclusively) by Miriam's great-granddaughter Genevieve Curtis and her husband Alexander R. Curtis and was transported to Mendon with the help of the Utah Pioneer Trails and Landmarks Association. The new stone was dedicated on 19 October 1948, in a service attended by several of Miriam's descendants and some members of the MIA general board who were conducting training sessions in that part of the country.
Local people also attended the service. One of them, Harland P. Moffitt of the county board of supervisors, noted that there was a state law requiring the township to keep all cemeteries fenced and mowed at least twice yearly. He promised that the law, which had been neglected at Tomlinson's Corners for so many years, would be respected in the future. Whether it was that promise or a general increase in civic pride or for other reasons, Tomlinson's Corners cemetery is today in good condition, and is one of the sites often visited by LDS tourists.
.

.

.

.

.

.

.

.

(The small bronze plaque screwed into the bottom of the stone reads "Placed by Genevieve Curtis great-granddaughter and her husband Alexander R. Curtis Sept. 1948.")