"Book of Mormon illustrations."
Despite having already seen this post's title, you almost certainly flashed on one of Arnold Friberg's paintings illustrating the Book of Mormon, no? Or maybe if you're one of Keepa's 18 Sunday readers of Phil Dalby's comic strip adaptation of the Book of Mormon, you thought of that. We've talked of other illustrators – like C.C.A. Christensen's 1890 illustrations for the Juvenile Instructor. Minerva Teichert's series is also well known and deservedly well loved.

Here's another illustrator to be familiar with. Your grandparents may have known his paintings, because in the few years between 1937 when most of them were painted, and 1953 when Friberg's paintings began appearing in the Children's Friend, these were the pictures used in lesson manuals and on the covers of church magazines specifically to assist teachers in telling the stories of the Book of Mormon to young children.
J[onathan]. Leo Fairbanks (1878-1946) was one of that great Fairbanks dynasty of artists who have done so much for the Church art (and for American history, as well). He was a son of painter John B. Fairbanks and a brother of sculptor Avard Fairbanks. He studied first under his father, then in Paris. He continued producing art even while his career focused on art education, first in the public schools of Salt Lake City, and later at Oregon State University. His most well-known work in a Church setting was as the sculptor of the frieze decorating the temple at Laie, Hawaii.
Beginning in 1937 he painted a series of illustrations of the Book of Mormon. I do not yet know what the impetus for that was, nor how many paintings eventually comprised the series. From the number of paintings devoted to the book of I Nephi alone, we might guess that he intended to do many dozens of paintings fully illustrating the entire Book. So far as I have been able to find, these paintings have never been compiled and published in a single work, and I have been gathering them a few at a time from where they appear in old LDS publications. There are undoubtedly more than the 15 presented here as a sampling; I continue to search for more.
What intrigues me more than the pictures themselves is the choice of scenes he chose to depict, where that choice differed from the other series we've looked at, and how very different his conceptions were. Compare his "Vision of Nephi" with that from the 1890 series, for instance, or Fairbank's very simple "Liahona" with the related Friberg painting, or his Nephi working quietly at the forge  in the background of his "Building of the Ship," again contrasted with Friberg.
What do you think?
(Note: These images are scanned from the publications of the 1930s and 1940s when mass color printing techniques were still being developed. Sometimes the layers of color didn't always match up, which is particularly noticeable in the striped clothing in these scenes. Consider the muddy color less a defect than as a feature helping you to experience these pictures the way your great-grandparents may have seen them!)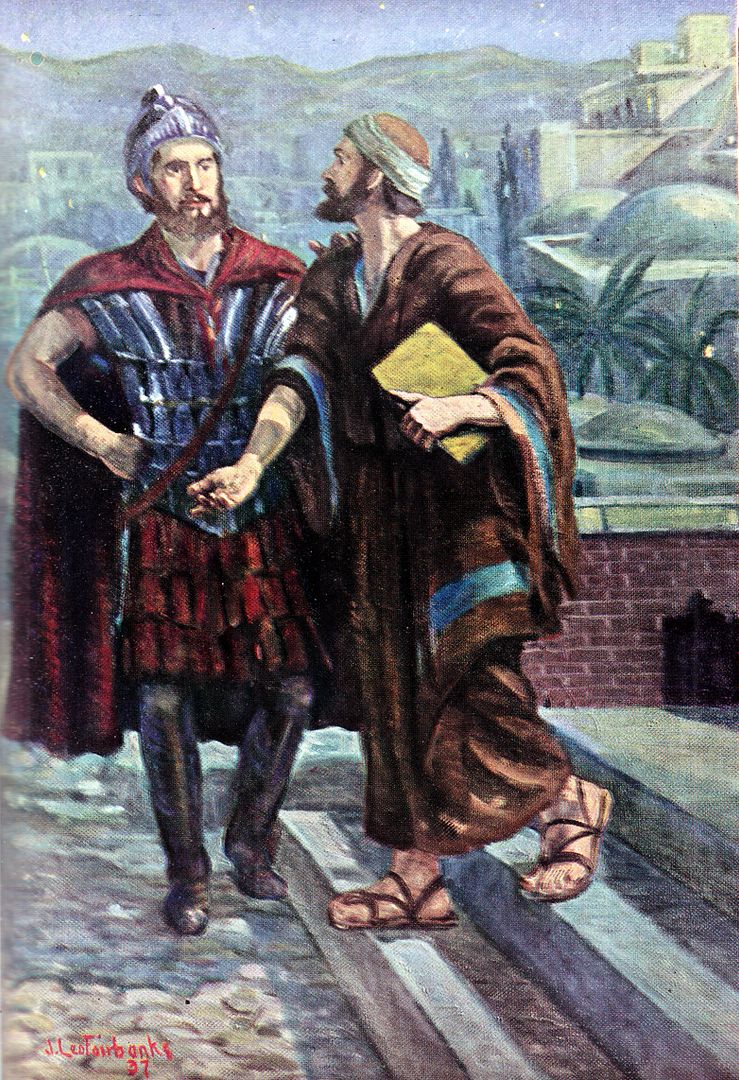 Nephi and Zoram with the Brass Plates
1 Nephi 4
.
Journey in the Wilderness
1 Nephi 6:9-13
.
Ishmael and His Family Join Lehi
1 Nephi 7
.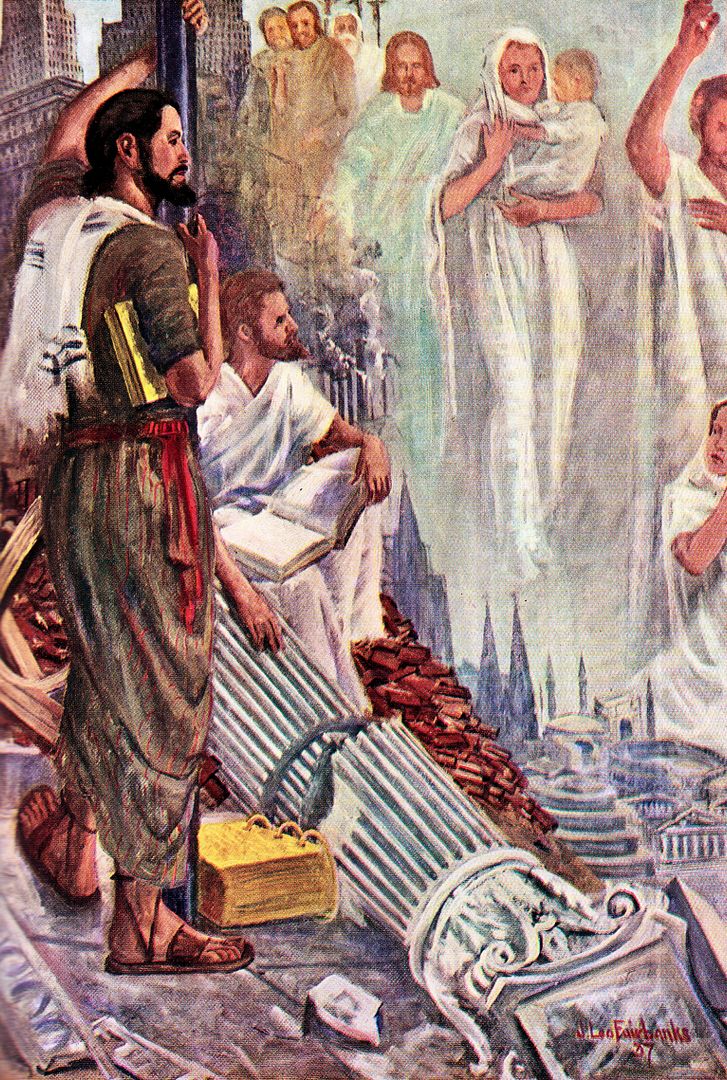 The Vision of Nephi
1 Nephi 11
.
The Liahona
1 Nephi 16
.
Nephi Breaks His Bow
1 Nephi 6:14-29
.
Building of the Ship
1 Nephi 17, 18:1-8
.
On the Ocean
1 Nephi 18:9-23
.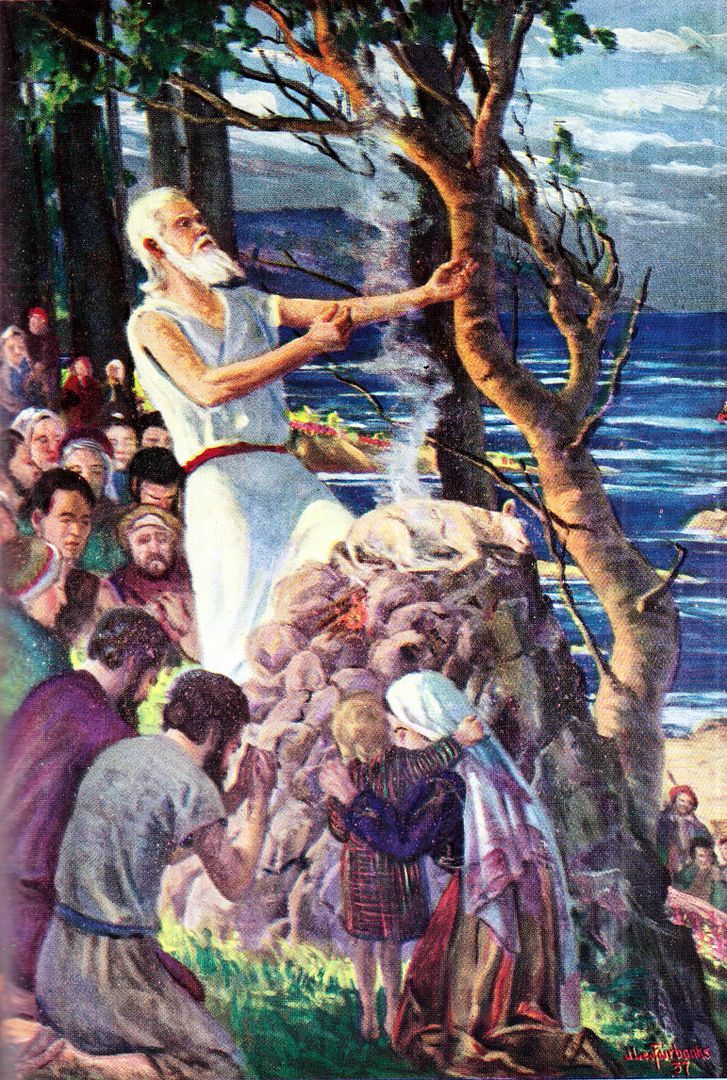 Lehi and His Family Reach the Promised Land
1 Nephi 18:23-25, 19:1-6
.
Nephites in the Wilderness
2 Nephi 5
.
Ammon Before King Lamoni
Alma 17-26
.
Nephi's Prayer before Christ's Crucifixion
.
Christ Teaching the Nephites
.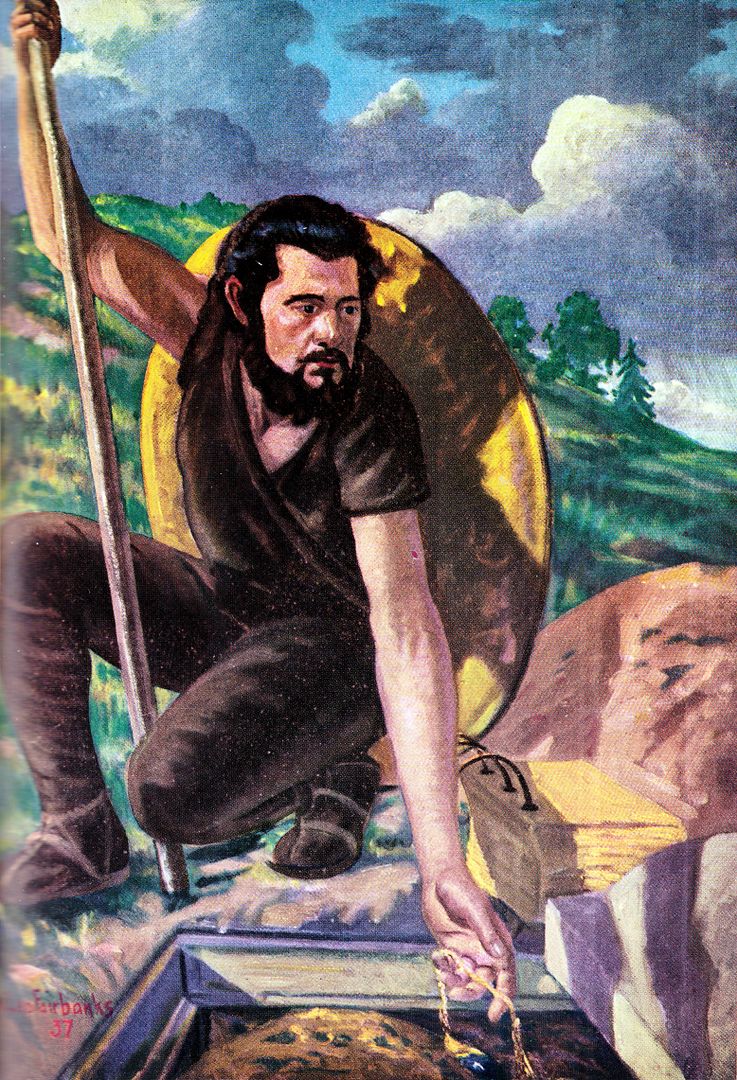 Moroni Hides the Records in the Hill Cumorah
Moroni 12:4
.
Moroni and Joseph Smith