This is an unusual topic for Keepa, but I think not inappropriate. It is as much a part of our past as are many of the other, happier articles I post. In reading it, please know that while I don't endorse these artifacts of the past, neither do I unduly condemn our grandparents and great-grandparents for participating in normal American popular culture. This post is meant only to inform.
Usually when Mormons talk about the relationship between Mormons and Mormonism and blacks, the conversation centers on priesthood and somewhat related (in past generations, not in the present) issues of intermarriage, access to temples, and fellowship. There are other aspects to the relationship between race and church, though: Until fairly recently, Mormons have also been primarily Americans; we imbibed some of the social attitudes and indulged in the cultural atmosphere of America in ways that had nothing to do with doctrine or theology.
The culture shared by Mormons with the rest of America is blatantly obvious in many of the jokes published in the church magazines. As I gather materials for Keepa's usual Saturday "Funny Bones" posts, I constantly run into jokes that I simply can't bring myself to publish alongside the corny or clever bits that I do publish. (Is it a double standard that I print jokes about ultra-thrifty Scots, or other ethnic groups? Probably. But it seems to me that a story based on a supposed national trait that is basically good until carried to extremes – thrift – is vastly different from a story based on the supposed criminal tendencies that are at the base of black ethnic jokes from a hundred years ago.) A sampling of the jokes that do not make the cut for "Funny Bones" posts:
So Tricky [1890]
Shortly after a fire in a town "down South," a colored man called on an insurance agent and said:
"Wants my money, Cap'n."
"I don't owe you any money."
"Ain't yessef de 'sho'ence agent?"
"Yes, I am an insurance agent."
"Den yer owes me money, fur my sto' burned up durin' de late fire, sah."
"You were not insured in my company."
"Golly, you say I wa'n't!"
"Come, get out of here."
"Hold on, boss, an' lemme 'splain. Woz Mr. Jones 'shored in yer comp'ny?"
"Yes."
"Woz Mr. Jackson?"
"Yes."
"Wall an' good. Now my sto' was jus' bertwixt Mr. Jones an' Mr. Jackson. De wall o' dar sto's made de wall o' my sto'. Ef yer'd a took dar sto's erway, my sto' woulder been gone. De inshoin' o' dar own sto's insho'ed mine, doan yer see?"
'No, I don't see."
"Den I ain't goin' ter git nuffin, is I?"
"No."
"I'll recollect dis, sah, an' see whut de cou't'ous'll hab ter say"; and, turning away, he muttered, "Ef I'der knowed de comp'ny woz so tricky, I wouldn'ter set de blame sto' afire."
The Test [1911]
"Des yo' belieb dat Jim Johnson am really converted?"
"Deed I does. I'se bin visitin' his house fo' de last free months, an' dey hasn't had a mouthful ob chicken."
-oOo-
THE WISH [1918]
Sometimes I wish that I was jus'
A little colored boy,
'Cause don't you see – he often can
Nice dirty hands enjoy.
To Have Been Expected [1926]
"No, suh," said Erastus Pinkley from behind the bars of the village lockup, "Ah wouldn't 'a got into no trouble wif de constable, suh, ef it hadn't been fo' wimmen's lub ob dress."
"What has dress to do with it?" asked the amazed visitor.
"Well, suh, my wimmen folks, dey wa'n't satisfied wif eatin' dat chicken; dey had to go an' put de fedders on deir hats an' p'rade 'em as circumstantial ebidence."
-oOo-
Jokes like these, and the exaggerated facial features and swaggering gait evident in even such a simple cartoon as the one above, were staples of the minstrel show, the uniquely American form of entertainment that depended for effect on parodies of the black body (both appearance and movement), black intelligence, and black family life and customs. The most identifiable feature of minstrel shows was the exaggerated blackface makeup worn by white (and even some black) performers as they joked and cavorted and sang. Minstrel shows were wildly popular from the 1830s on into the early 20th century, until vaudeville replaced them on the professional stage. Amateur productions by high schools, community theater groups, and other organizations remained popular and continued the minstrel tradition into the early 1960s, when finally the social and legal gains of the Civil Rights era shamed us into realizing how patronizing and derogatory such burlesques really were.
Mormons were not immune to the insensitivities of the minstrel show – but also no worse than the rest of the country, as far as I have any way to judge. Some elements of minstrelsy can be found in the pages of church magazines from the early 20th century, as in this drawing and poem from 1913. (Those elements, in case you are innocently mystified, are the ethnic speech of the black speaker, his joyful and exaggerated pleasure in singing about food, and his inexpert plinking away on a banjo as he speaks.)
LUCKY.
Tink-a-tink-a-tink!
This is what I fink;
I'm a lucky darky chile,
Feel like singin' all de while –
I've a norange, an' a pine, sah,
An' they bofe o'them are mine, sah!
(Tink-a-tink-a-tink,
Dink-a-dink-a-dink!)
An' a melon, an' a mango,
An' a little dinky banjo!
Feel like singin' all de while,
Such a lucky darky chile;
That is what I fink –
Tink-a-tink-a-tink!
-oOo-
One of the church magazines published a story for children in 1926, "Frisky Rabbit," which opens:
Once upon a time there was a little boy named Sam, and Sam was as black as a very dark night. He had shiny, white teeth, big round eyes, an ever ready grin, and a cage full of rabbits!
Father and Mother Rabbit had eight babies. Most were white.
But alas! That eighth little rabbit! He might easily have belonged to a different breed for there was not a spot of white from the tip of his long pointed ears to the end of his skimpy little tail.

He was as black as little Sam himself, and his head was chock full of mischief and ideas.
The rest of the story – more than four pages – consists of the adventures of Frisky-the-black-rabbit who ran away to the garden owned by a white man, "Mr. Man," and his wonderful treatment by the white family who adopted him as a pet.
He had never been in a real house before and standing on hind legs, he tried hard to eat the roses on the wall paper, which made the boys laugh until their little sides ached.

Frisky was much surprised and equally pleased at finding himself such a clown, so he made them laugh all the more by doing all the stunts little black Sam had taught him.
But Frisky got homesick for the other rabbits in the old cage at home, so he ran away back to Sam's cabin.
On the back steps of the little negro cabin, big tears running down his face, Frisky saw Sam, but not before Sam saw Frisky.

"Nigger Baby, don't you nebber do dis no mo', if you don't want to break yo' little Sam's heart."

And Frisky must have promised, for he spent the remainder of the night in the same bed with Sam and Sam's five little brothers.

Isn't that an adorable picture to accompany a cute little story? Well … except that Frisky behaved as if he were a character in a minstrel show, displaying his jolly ignorance and performing tricks for the amusement of the little white boys. And the above picture of the six little boys – none of whom, other than Sam, have previously appeared in the story by so much as the merest mention – carries the unspoken subtext that blacks breed like rabbits, to have so many little boys all the same size.
If you think I'm stretching in my interpretation of the features of a minstrel show in the above items, there is no possible mistaking of the fact that Mormons easily and frequently exploited the minstrelsy theme in these clips from different years and widely scattered geographies:
This advertisement was published in a Church magazine in 1944:
.
A California ward Primary produced the operetta Little Black Sambo in 1945; its production "was most beautifully presented in every detail":
In 1948, a Salt Lake area seventies quorum produced "Sambo's Minstrel Show" as a missionary fundraiser. The report in the Church News:
It's a pleasure to see a good show and to be thoroughly entertained. Thousands of members of the Church in Salt Lake City wards and stakes were delighted during the past year with the performances of Sambo's Minstrel Show, presented by members of the … Quorum of Seventy, of … Wards under the direction of [name].

Many who would enjoy seeing a repeat performance and others who have not had the pleasure will be pleased at the announcement that the show is scheduled to play most of the coming year – from early fall until spring – and if other quorums, ward or stake organizations would like to include this happy troupe on their program schedule, there are still some vacant spots in their billing book.

The show is a genuine minstrel according to officers of the quorum, and consists of two parts, with a cast of more than thirty members. It has taken many months of practice and effort on the part of the cast to make it the type of show all would want to see.

These Seventies have a deeper meaning and purpose, other than just entertainment, behind this black-face show. Always active in missionary work, the … quorum has kept members of their quorum and others in the mission field paying all expenses. At present they are giving assistance to two missionaries, a husband and his wife, and the money received from all performances go into this mission fund to carry on the great missionary work.

Presented on a percentage basis, the quorum takes a part of the proceeds, garnered at each performance, for their missionary fund and turns the balance over to the sponsoring group or organization.

If any are interested in engaging the services of these performers contact …
The report is illustrated by this photograph: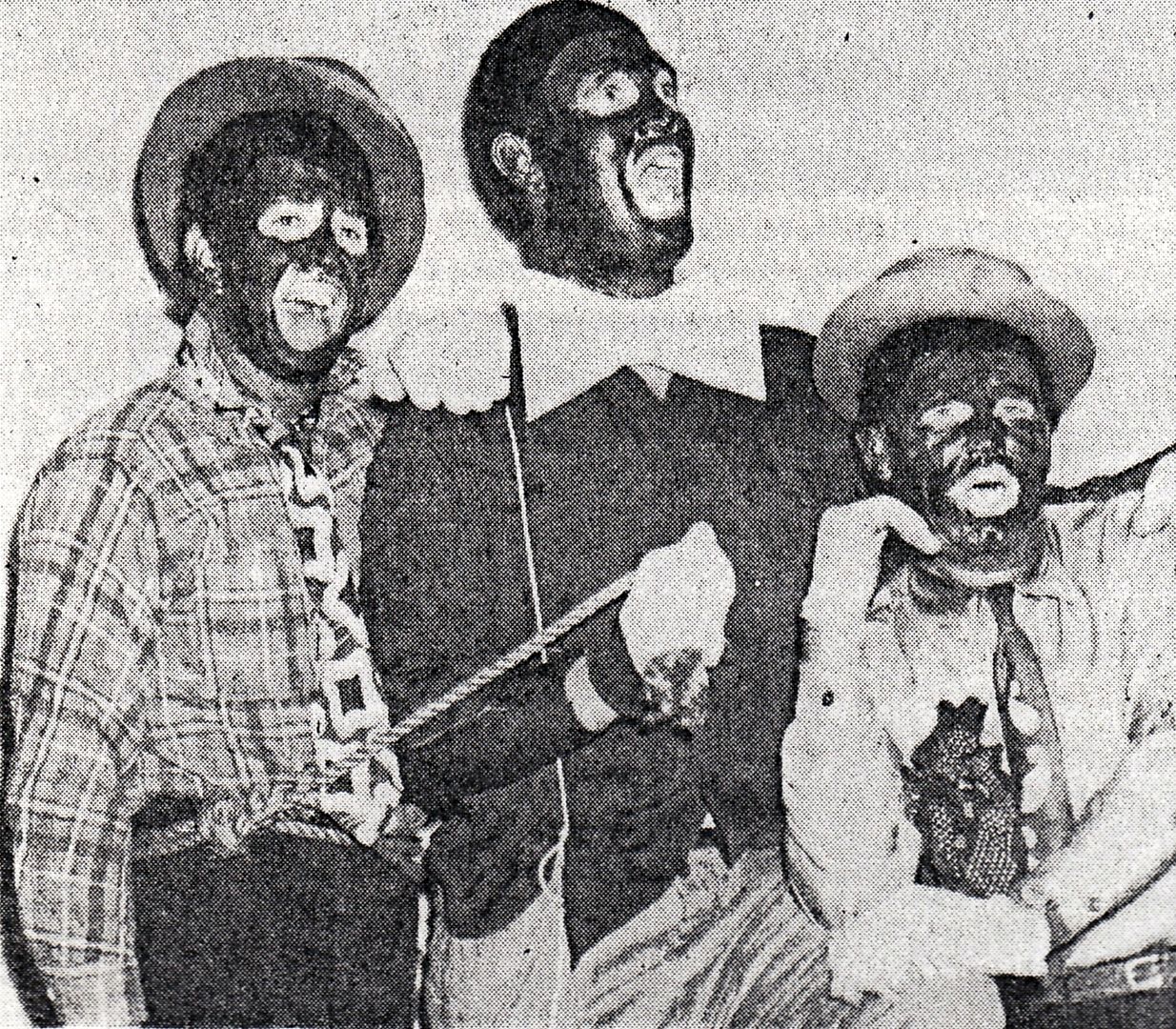 From 1950, a Canadian stake roadshow photo preserves this glimpse of one cast, who "played to capacity houses" in all six towns and eight wards of its circuit.
In 1951, a branch in the southern United States produced a minstrel show:
With sweet melodic tones of the old plantation days singing out, excitement and enthusiasm running high, and utterly "bulging at the seams," the little old chapel … was the scene of another outstanding entertainment …

On show night Mr. Interlocutor … "refereed" the antics of a stage full of "darkies" all bubbling over with rhythm. Highlighting the show ere the "Beal St. Boogie boys" … "Lena Horne" … "Al Jolson" … "Eddie Primrose" … "a couple of mad cat jitterbugs" [and] "Two bad actors" cracking puns, named "Sambo and Bones" who wound up with a fine rendition of "Swing Low, Sweet Chariot" …

Proceeds from the successful entertainment will finance the Gold and Green Ball soon to be held.

This outstanding entertainment follows close after an all-out success for the lively branch in presenting a colorful pageant entitled "The Gospel through the Ages" …
-oOo-
Minstrel shows were still being produced as late as 1961, as indicated by this report from Idaho (no photograph is available):
More than a hundred boys, girls and adults … used a little black makeup and a lot of talent to stage a minstrel show that helped to bolster Bishop [name's] lagging missionary fund.

[names] combined forces to direct "Darky Daze" minstrel.

"It is the best thing that has happened to our ward in a long time," said [name]. "I can't decide which made me the happiest – the wonderful harmony the program fostered in the ward or the sum above $300 that went into the missionary fund at the end of the show."

The show played to a capacity audience. Offers were received to take the show on the road for fund raising projects in other wards and stakes.
-oOo-

If we were no worse, then neither were we any better, in this particular regard, than the rest of America.

I should warn you-all that I'm not in a particularly generous mood toward the kinds of comments Keepa has been drawing from certain quarters recently. If this post offends – if you want to express outrage towards Mormonism, or you want to scold me for airing dirty laundry in public – you have a lot more leeway to do that if you have supported Keepa with your comments in the past. Absent that track record, do not be surprised if outrage and scorn doesn't make it past my filters. I'm unashamedly curmudgeonly today. Even more than usual.