What was it like to be a sister missionary in the post-World War II era? My aunt, Evelyn May Taylor, was such a missionary, serving in the Northern California Mission. She kept a journal and her mother carefully saved all the letters she wrote home. Evelyn herself took photos and kept the documentary odds and ends associated with her mission, allowing us to reconstruct the outward signs of missionary life and something of the interior meaning of that mission.
This post, the first of several, sets out the record of Evelyn's preparation to be a missionary (not counting a young lifetime of active church life, including graduation from seminary), through the end of her weeks in the Missionary Home in Salt Lake City on the eve of her departure for the mission field.
I have not found a record of Evelyn's initial interest in serving a mission, nothing that suggests whether she approached her bishop, or whether he called her first. The first indication of mission preparation in her papers is the carbon copy of her temple recommend, issued on May 18, 1946. The reverse of the recommend lists the questions used at that date for determining worthiness. In a twist from today's procedure, the candidate answered those questions in writing, over her signature.
.
.
Evelyn first went to the temple on June 6, 1946. She saved the small pink ticket that was pinned to her dress when she went to the temple – that pink card alerted temple workers that she was a first-time temple-goer who might need an extra directing hand from time to time. The same system was still used when I attended the temple in St. George in 1981 (I didn't save my ticket, though). Is that system still used today?
.
Late in October, 1946, an envelope with a familiar return address – the Church Administration Building – and a 3¢ stamp! – arrived with Evelyn's mission call, signed by President George Albert Smith.
.
.
.
The mission call was accompanied by three other documents:
A form letter regarding missionary wardrobe –
A form letter regarding medical issues –
And a form letter asking for basic identifying and genealogical information about the missionary, something that today is collected during the pre-mission phase and submitted by the missionary before she receives her mission call. There is no copy of Evelyn's completed form in the preserved paperwork.
Evelyn posed for pictures wearing her new missionary finery:
Today's missionaries are discouraged from having any more show in their home wards than simply speaking at church before their departure. For many years in the middle of the 20th century, departing missionaries were given a "farewell testimonial" often followed by a dance. Programs were printed, financial contributions were solicited, and refreshments were served.
.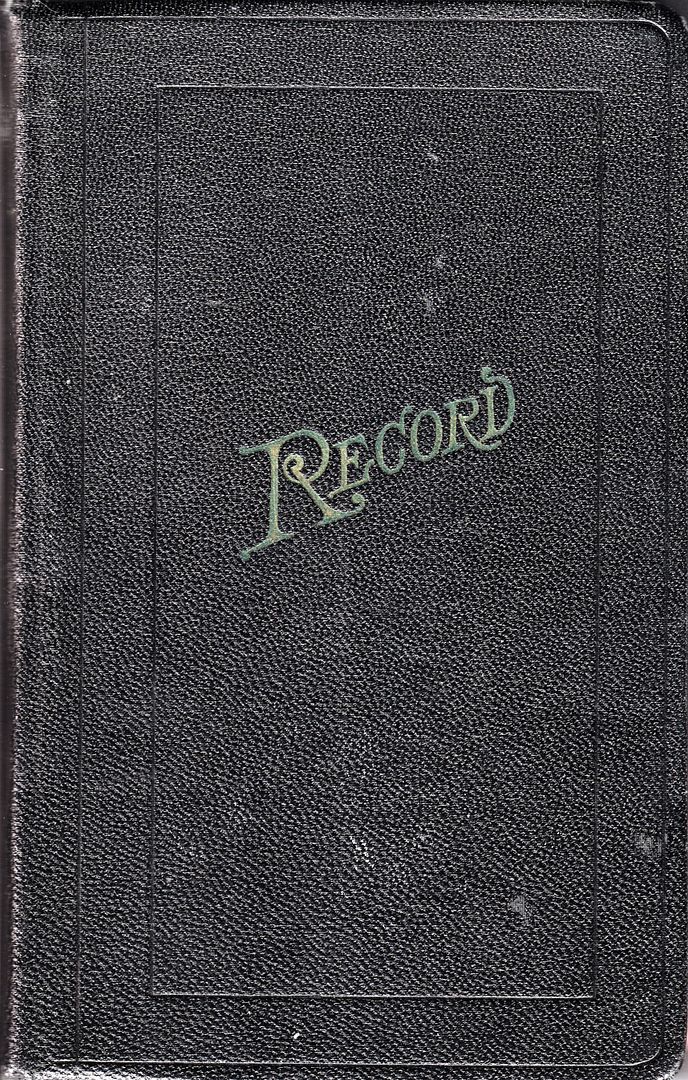 At some point in her preparation, Evelyn purchased a blank book to be used as a missionary journal. The journal does not cover her mission preparations; the first entry was made as she traveled between Salt Lake City and San Francisco.
.
.
.
.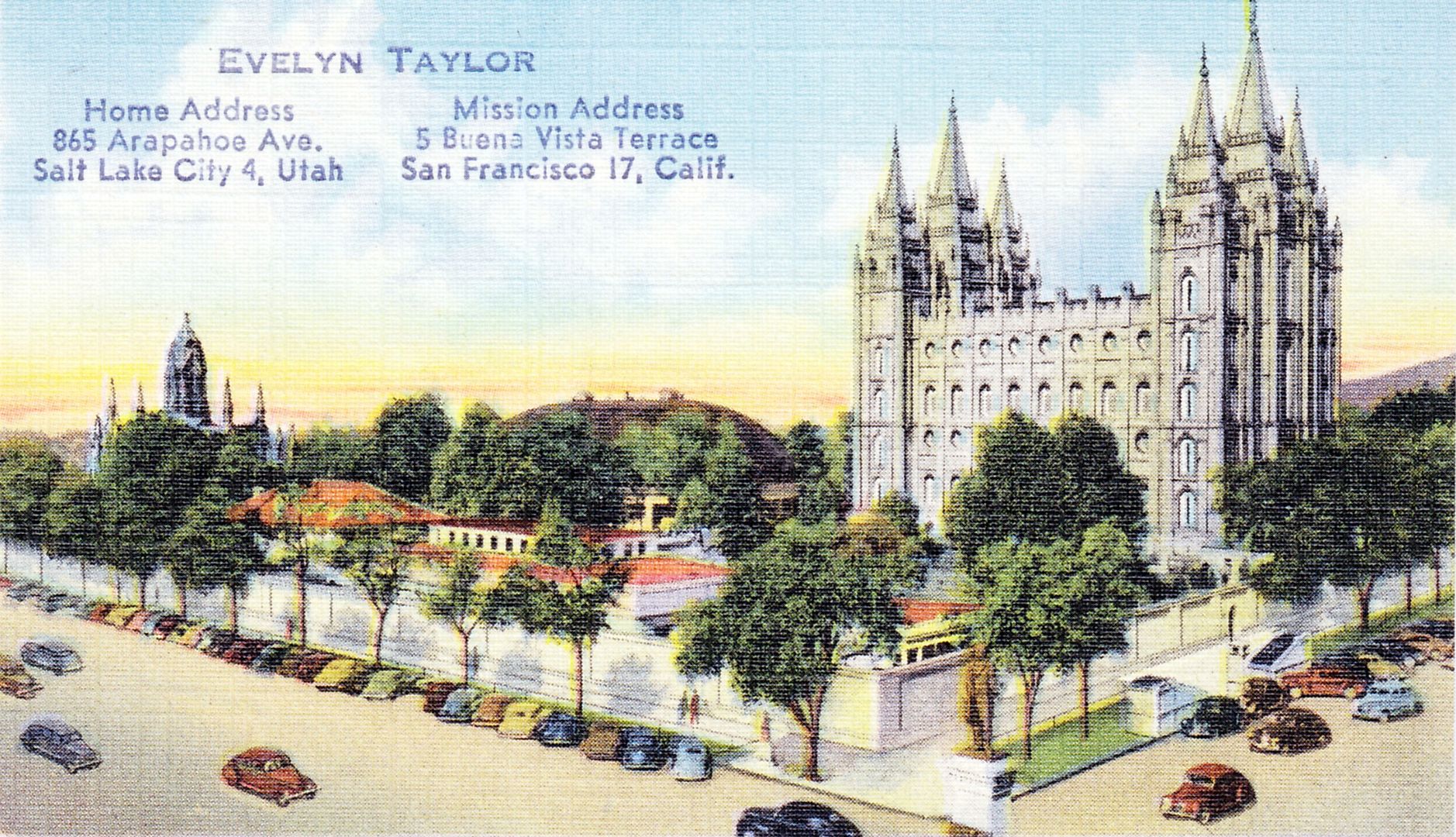 Most missionaries purchased cards with the Articles of Faith printed on one side and a view of Temple Square, with the missionary's name and addresses, to use as business cards during their missions –
.
.
.
Training in the Salt Lake Missionary Home lasted for two weeks. A printed program outlines the activities of missionaries-in-training –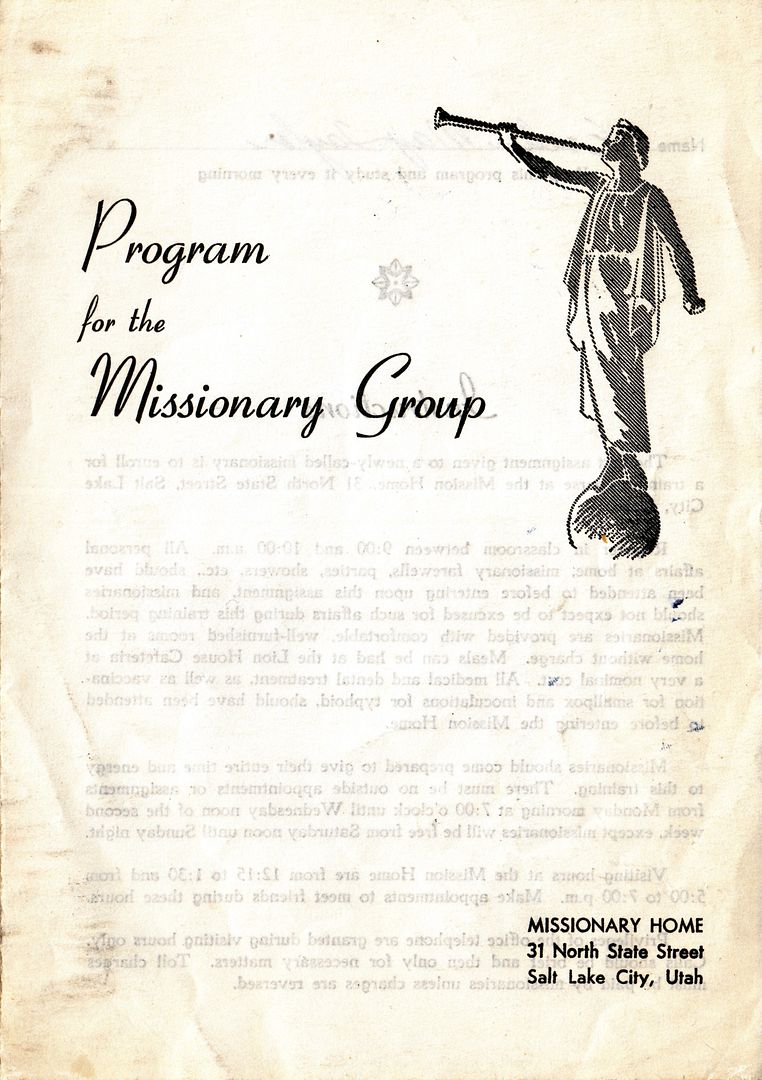 .
.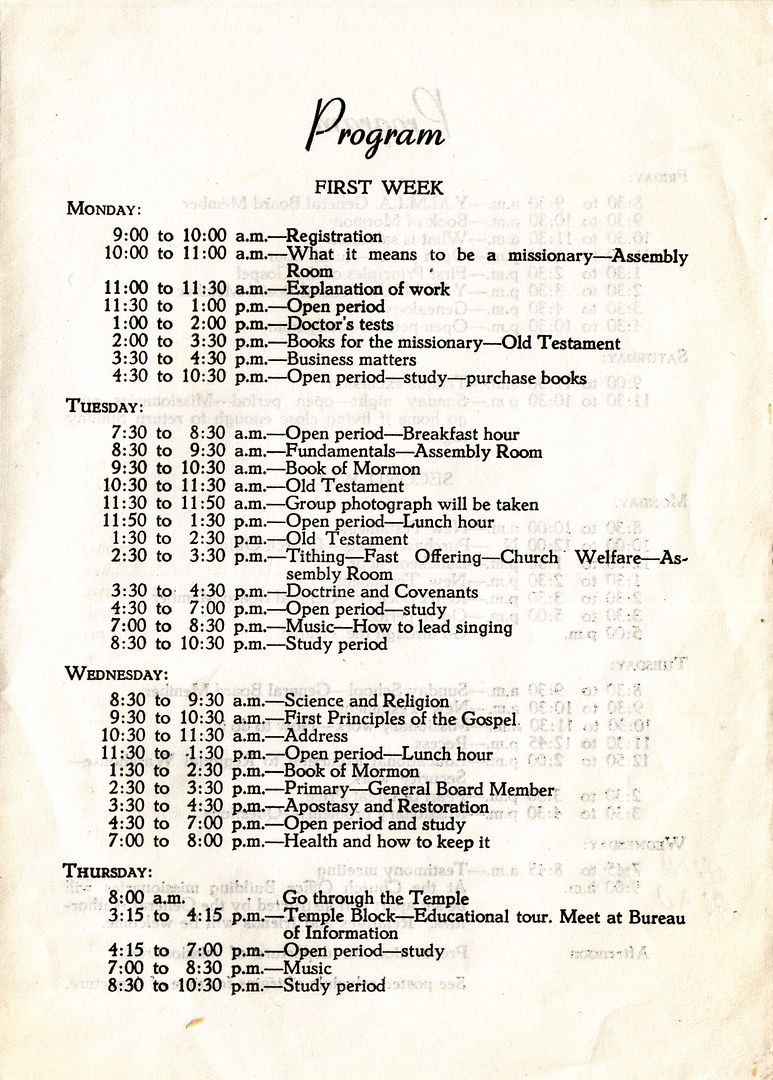 .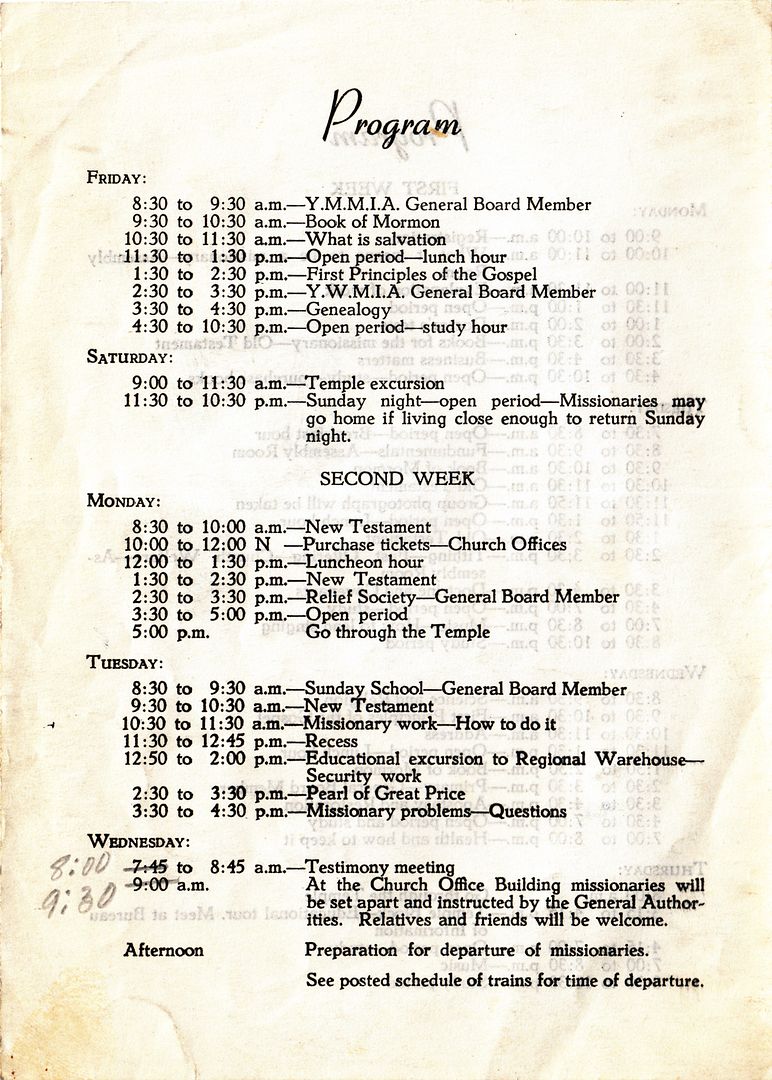 A group photograph of the missionaries at the home was taken on Tuesday of the first week. Each missionary was given a print of that photograph.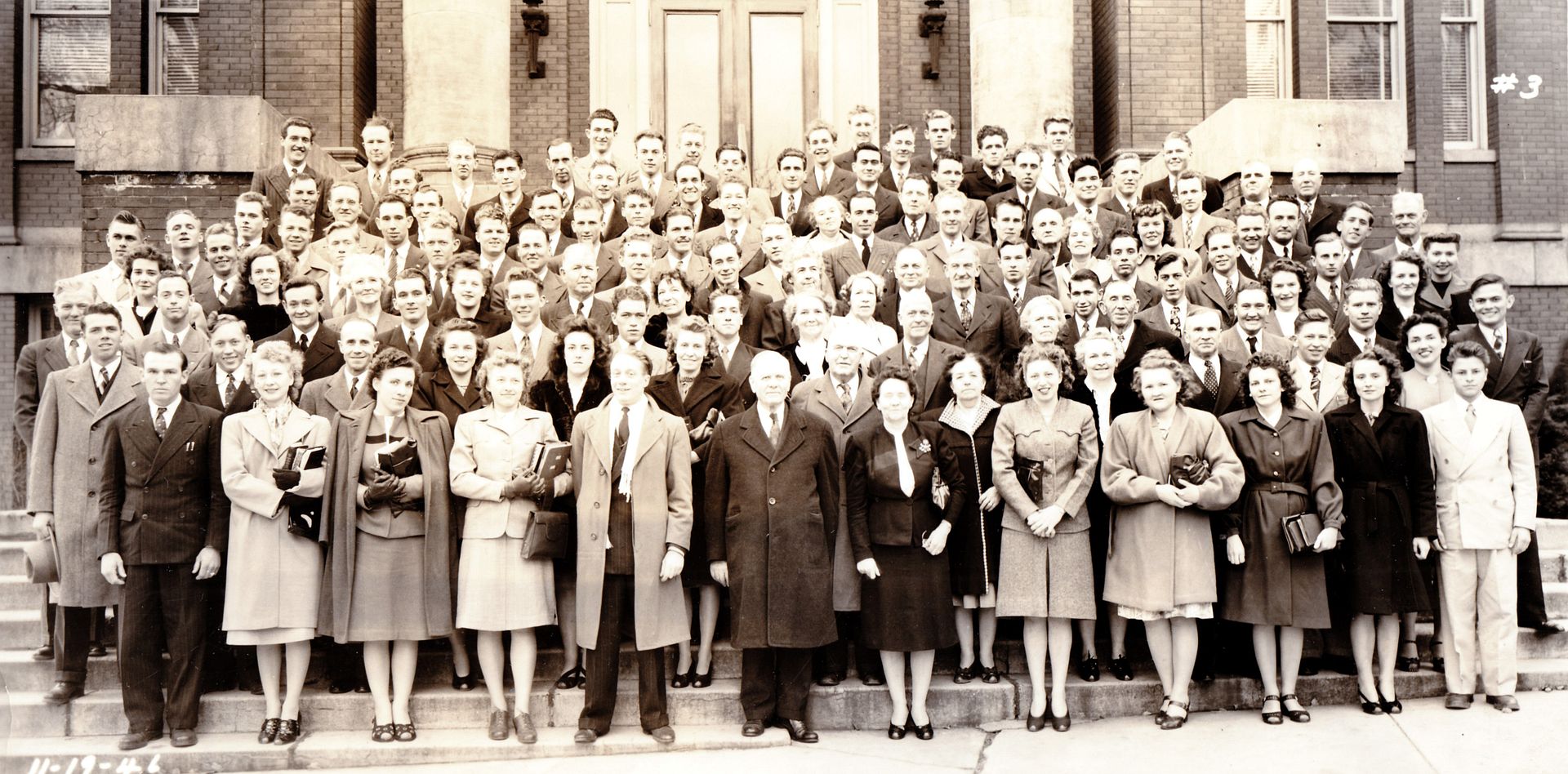 Such group photographs were printed in the Improvement Era, with captions identifying each missionary. The missionaries in Evelyn's group were –
At the conclusion of her training in the Missionary Home, Evelyn received her missionary certificate, signed by all three members of the First Presidency: George Albert Smith, and his counselors J. Reuben Clark, Jr. and David O. McKay.
Next in the series: Travel to California, and early days in the mission field.