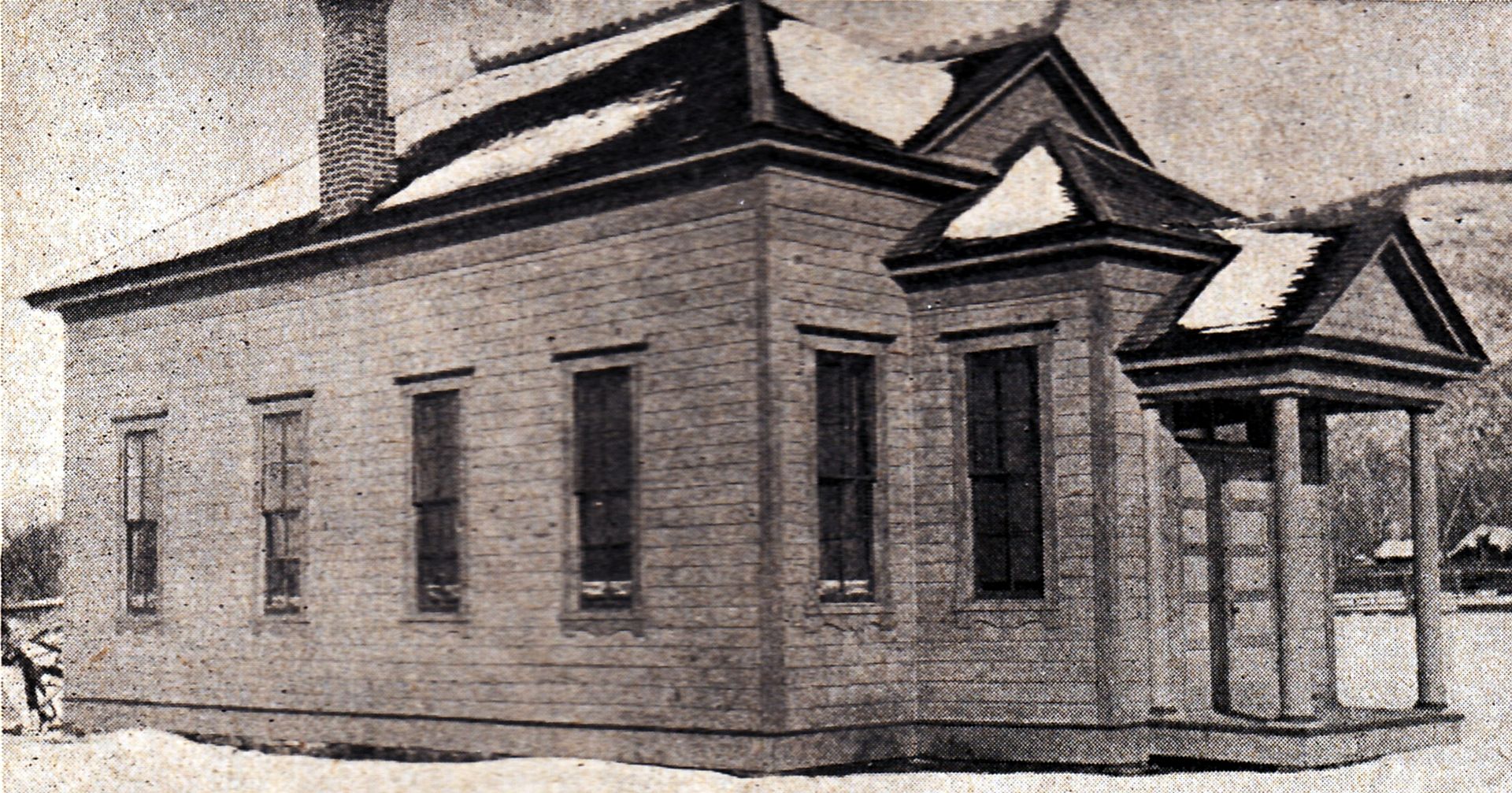 Chapel-building had a relatively late start in Mormondom. Other than the Kirtland and Nauvoo temples, there were no gathering places dedicated to worship (unless you count the groves and temporary boweries) in the New York or Ohio or Missouri or Nauvoo periods of church history. The Seventies had their Hall in Nauvoo, a log building designated a "tabernacle" was built during the Iowa passage, and once in Utah more formal tabernacles were built in some communities, particularly for stake use, but ward chapels or meetinghouses came later. These ward buildings tended to be called "halls" at first, and served for everything – worship, schools, social centers – all in the same main room, which was often the only room beyond a small vestibule, if one existed. Some larger wards, chiefly in Salt Lake City at first, built "social halls" under separate roofs from their "assembly halls" – only gradually did these two large rooms come together under the same roof.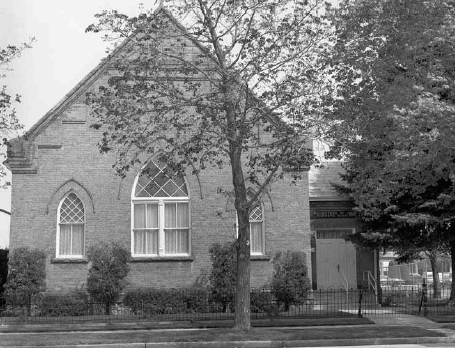 It was during this period of typically small ward buildings with multi-use main rooms that Relief Society was reestablished after the hiatus following the exodus from Nauvoo. Relief Societies needed space – room to meet, room to work, room to store supplies, room to conduct business and classes and testimony meetings – that didn't accord well with the multi-use space of a ward assembly hall. From the beginning of the reestablishment of the Relief Society in the 1870s, ward and stake Societies began to build their own buildings. (There may have been other motives; if the question is discussed in histories of the Relief Societies I am not familiar with it, and I certainly haven't combed ward minutes to find discussions by sisters of the need for their own halls. I do believe, though, that whatever other motives might have been at play, Societies built their own halls chiefly because it didn't occur to anyone at first that the Relief Society was a subset of the ward organization that could or should be housed in the ward building – they were separate organizations, and separate organizations built separate buildings tailored to their functions.)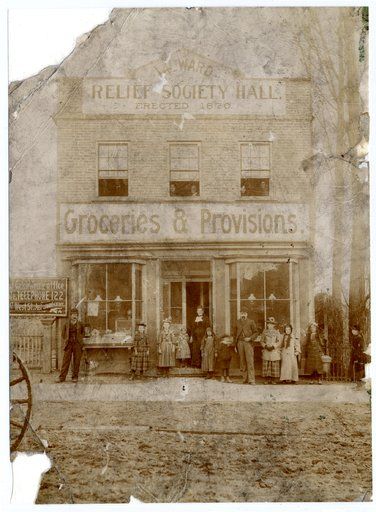 These Relief Society halls tended to be small buildings made of adobes or small frame buildings, as shown by the few random examples I've culled to illustrate this post. There were exceptions: the 14th Ward hall in Salt Lake City was built as a commercial building because the sisters operated a store; some buildings, especially on the stake level, could be quite elaborate, as shown by the Weber Stake hall in Ogden; and the sisters of the Beaver West Ward in Utah built a substantial brick building that would have been superior to the ward chapels in many parts of the church. But the smaller, simpler, one room (with perhaps vestibule) buildings were more representative.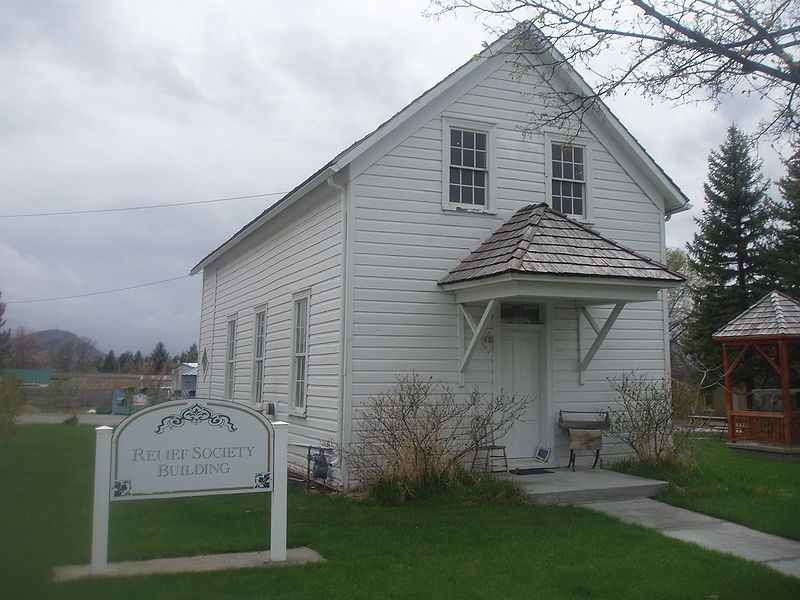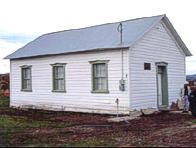 Relief Society halls, although separate, were still closely tied to ward worship purposes, and the halls were built either on the same lot or sometimes directly across the road from the ward buildings they accompanied. Sisters raised the money to build their halls themselves. Sometimes this involved the stereotypical ladies' activities of bake sales and fund-raising dinners. In other places, the women engaged in commercial, agricultural, or even industrial projects to raise means.
Simple as they were, the few that survived the wrecking ball are treated as treasures in their communities today.
All that is probably well known to you. What is novel (I hope) about this post is two-fold:
In 1914, the Relief Society published plans for two types of Relief Society halls, a bungalow style with its long side facing the street, and a more urban style with its narrow side facing the street the way city lots were usually oriented. Inside, the buildings were very similar. These plans were offered purely for the convenience of local Relief Societies, especially those who wished to save the cost of a professional architect – this was not a movement like the standardized building plans of the 1950s and later; local organizations were not required to build according to these plans. Suggestions were offered for suitable materials. Kitchens were incorporated, and "ample toilet accommodations" were provided – although most of us are probably raising our eyebrows at the use of the word "ample" in connection with the tiny, single space mapped out! Cellars could be dug, or not, for heating plants.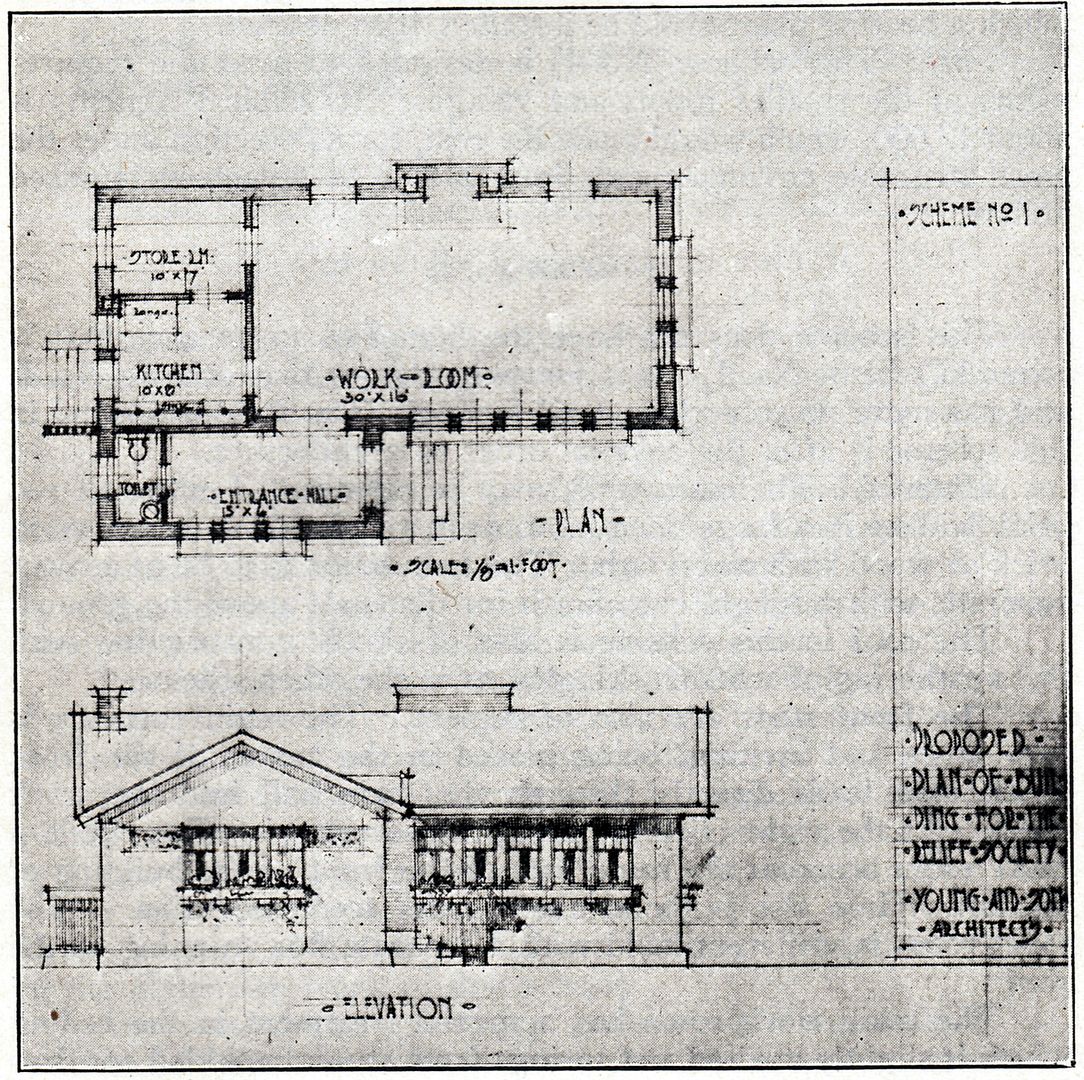 And the second bit of trivia, which I think might be a contribution to the study (I won't swear to it, but I couldn't find any mention of it while Googling, and there are many references to Relief Society halls out there), is the identified end point for the period of Relief Society hall-building. By 1924, the General Relief Society was acceding to the request of the Presiding Bishop's Office that ward Relief Society halls not be built, but that the organization should be provided quarters within the newer, larger, more accommodating ward buildings that were being built by that date. Still, I love the spunk exhibited in the announcement that the women should insist on suitable quarters:
The Presiding Bishop's Office has advised that separate Relief Society ward halls be not built. Where new chapels are being erected, quarters should be provided therein for the Relief Society. It is felt that it is a waste of money to build a hall which would be unoccupied except one afternoon a week, and that it is far more preferable that all auxiliary organizations be housed in the ward chapel. When Relief Societies are assigned a room in a ward chapel, however, they should not be contented with the darkest room in the basement.
Indeed!
.
photos, from top to bottom:
Kamas, Utah
Weber Stake, Ogden, Utah (left)
Washington, Utah (right)
Beaver, Utah (left)
14th Ward, Salt Lake City (right)
Richmond, Utah (left)
Georgetown, Idaho (right)
UPDATE (Added 2 October 2010) — Sister Blah 2 sends these additional pictures of the Washington, Utah (near St. George) Relief Society hall, taken during her visit there in July 2009:
.


.
.
.
.
.
.
.
.
.