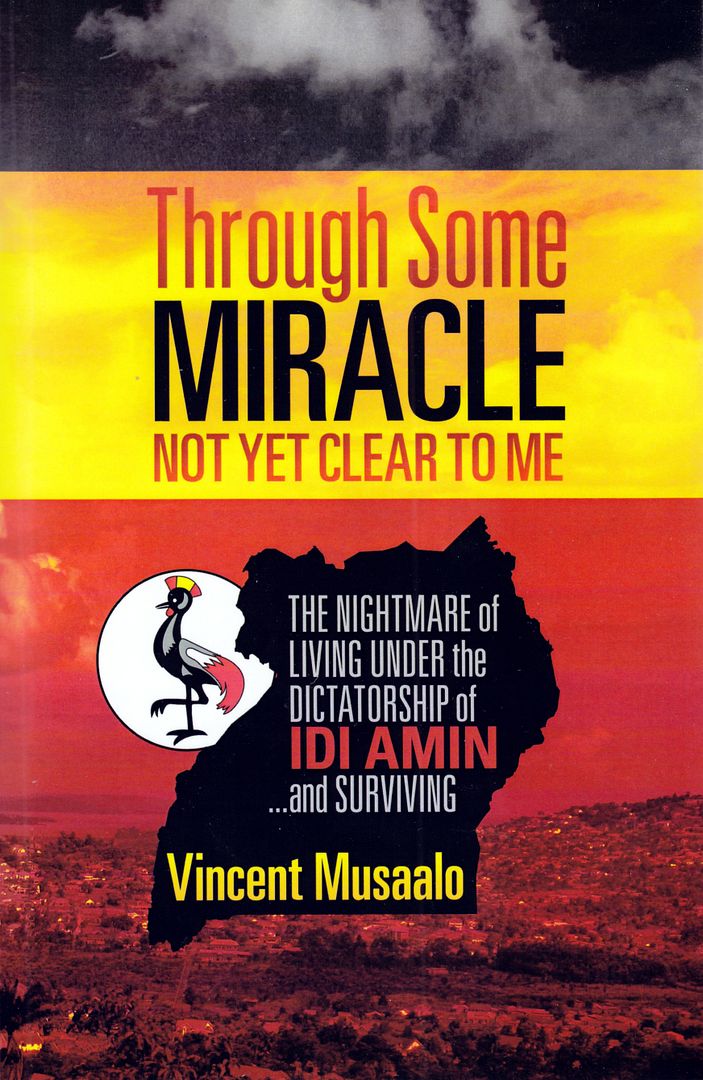 Vincent Musaalo, Through Some Miracle Not Yet Clear to Me: The Nightmare of Living Under the Dictatorship of Idi Amin … and Surviving. 2010. Self-published. $12.95 through Amazon.com.
I will never forget that fateful evening of January 25th, 1971. I was in the kitchen scrunched over my math homework mother had given me when I heard the huge explosion that shattered our world. The impact was so powerful that it knocked me to the ground where I lay stunned for several minutes. I was terrified, my heart thumping as loudly in my ears as the screams and gunfire outside. I had just managed to stand up when a second wave of mortar blasts knocked me down face-first on the kitchen floor amongst the clattering pots and pans which had been hanging on the ceiling.
So begins this memoir of Vincent Musaalo's childhood and youth in a Uganda terrorized by the dictator Idi Amin, and the action barely pauses throughout the 157-page book. For those of us whose awareness of Uganda is limited to Last King of Scotland and 30-year-old memories of the Israeli rescue of hostages held at Entebbe airport, Through Some Miracle provides some sense of the history and landscape of Uganda and a sense of the goodness of its people. The author does this simply and briefly and in a way that leaves the reader understanding and caring about a few brave souls who stood up for justice in their nation, and the helpless masses who could not.
But more than a history of Uganda itself, Through Some Miracle is a tribute to the author's family: grandparents who recognized the value of education and sacrificed to provide it for their children, and parents who met those grandparents' expectations and added their own determination to build their nation after Uganda won its independence from colonial rule. The author's father became a police inspector, his mother a primary school teacher, work that provided a secure childhood for the author and his younger siblings … but which also made the family prime targets for the jealousies and murderous hatred of Amin's henchmen. The wife's search for her missing husband in the days after he failed to come home one night – a search leading finally to a body dumped in a lake – personalizes the reports we have all read about hundreds of thousands, even millions, of such political murders.
With the death of the author's father, his mother takes center stage to provide for her children, not only to feed them through years of poverty and shortages, but to educate them, teach them morals, keep them strong in their Catholic faith, and make of them the noble men and women she would have helped them become under any circumstances. The family raised their own food on borrowed land, under their mother's direction and management, with the children working almost as hard as their mother. They all learned from and respected the advice of their elders, and provided care and comfort to those elders.
The children went to school, their mother insisting particularly that they do well in English. After passing his exams to leave primary school, the author was accepted into a boarding school for further education. As proud as he was of meeting his mother's expectations, it was a fearful day when he left home. As he left for school, he remembered how he had overcome his fears the first time he had had to walk alone any distance in the dark: "Just as I had done then, I had to believe in myself. If I didn't, no one would. Only the brave survived here."
Nothing about his schooling was easy:
For the first time, I was introduced to Chemistry, Physics, Social Sciences, Agriculture, Commerce and Biology. Chemistry and Physics were particularly difficult to learn because we do not have scientific terminology in our native languages. You had to completely adapt to a new way of thinking; and that necessitated tweaking one's cognition. I had never been exposed to this scientific outlook toward life in my culture. I had lived a very simplistic, subsistent, and unscientific lifestyle, and quite frankly it was extremely difficult to merge any aspect of my cultural upbringing to these new scientific concepts.
But he succeeded, and when he passed his exams to leave the high school, he recognized how far he had grown, from a naive boy from a rural background into a more confident, somewhat more sophisticated teen.
Amin's dictatorship was eventually overthrown, but although they were glad to see him go, life for the family did not improve significantly in the years of civil war which followed. Stability was beginning to arrive by the time the author left school. While he was waiting to hear whether or not he had passed his exams, a miles-long walk home  took him past a sign pointing to the Italian embassy. On a whim, the 18-year-old stopped at the embassy to see whether he could find work there as a groundskeeper. All such jobs were already filled, he was told, but as he turned to leave a woman asked him if he had any education. He told her he was waiting to hear the results of his exams. She told him the Italian government was looking for bright young men to accept scholarships in Italy, and sent him home with application forms for both the scholarship and a Ugandan passport. The possibility of the undreamed of opportunity overwhelmed both Vincent and his family, but when he was accepted they rejoiced, and with the unity and hard work they had demonstrated throughout their lives, the family outfitted their son and brother for his great adventure. Hundreds of his neighbors came to a surprise farewell for the young man who was going out into the world:
Each of the elders, as is the custom, gave me some words of wisdom and encouragement. They were well aware of the challenges that lay ahead, but filled me with confidence. I took their words of wisdom and courage very seriously. It then occurred to me it was not safe to look into the future with eyes of fear, but rather with confidence and hope. … My early experiences in life had molded and nurtured me, and I looked with optimism at the journey that lay ahead.
Arriving in Rome, the author linked up with Jose, a Bolivian more than twice Vincent's age, who was also the beneficiary of a scholarship to the same school in Remini. Beyond gestures and good will, there was little chance of communication between them – "Realizing that there was absolutely no way a Ugandan could understand a Bolivian trying to explain an Italian bus schedule, I just nodded my head" – but they formed a fast friendship. Soon after, when Jose suggested that Vincent accompany him to church, Vincent agreed.
I was surprised to see a congregation of about 30 people singing hymns in Italian. We must have been quite a spectacle, because I could see that we had diverted their attention. At that time I felt like returning to the hotel, but realizing that I had forgotten how we had arrived to the church was enough to dissuade me from even attempting to leave without Jose. … A few minutes later two young Caucasian men dressed in dark suites [sic] reverently walked into the room where we were congregated. They wore name tags, something I was not accustomed to seeing. I could tell they were lighter skinned compared to the Italians and I wondered if they were foreigners as well. When they walked over to me, I thought they were either the Police or part of the Immigration Personnel who tracked down undocumented foreigners.

Overcome by what could possibly happen to me, and well aware that I did not have my passport with me, I started fidgeting, and sweating in the process. My heart started beating even harder when they came and sat on either side of my seat. I started quickly rehearsing in broken Italian what I would have to tell them in case they inquired about my visa. …

By now I was so terrified that my hair stood on end, and my blood ran cold. "This could be the end of my short lived stay in Italy," I thought.
It was not the end, of course, and Vincent, too polite to decline the invitations of the missionaries, began to learn about Mormonism. A series of events helped him realize that God had brought him to Italy for a purpose beyond education. Not the least of those events occurred when he found himself stranded in Rome one cold night. Going through his pockets looking for anything that would suggest a way out of his predicament, he found a paper given to him by the elders, which had the telephone number for the mission home in Rome. Vincent called the number and spoke to the mission president.
As I hung up the phone and walked away from that endless line to the bus stop, I could not get my mind off of that wonderful man who, moments ago had come to my immediate rescue. It dawned on me at that moment that even the simplest of things can be the most challenging and that God always puts His hand in to carry us along, just as that man did for me that evening.
Vincent continued his meetings with the missionaries.
The day I made my decision to be baptized is very special in my life and I remember that the world around me seemed to be at peace. I was overcome by such a profound feeling of vitality and confidence and, most of all, a love for humanity. Life was worth living and everything fell into place and made sense. I could see now the unfolding of a new chapter in my life. The hand of God in the events of my life was now becoming clear. Where I was born, to whom I was born, the experiences, good and bad, of my youth. Walking into the Italian Embassy, running into the woman at the embassy and amazingly finding myself in Italy. And now, by some miracle, being granted the greatest of all gifts, the knowledge of my purpose on earth and my relationship with my God.
Through Some Miracle ends with the briefest of accounts of the author's life since his baptism – his own mission to Italy, the goodness of a sister missionary's family to sponsor his studies at BYU, his marriage and family, his teaching at the MTC and now his employment with the Church in Salt Lake City. Although my second printing copy of the book does not say this, the Amazon.com page indicates that Through Some Miracle is "Vol. 1." I sincerely hope there is a volume 2 in the works.
This book is self-published and would benefit from a light editorial hand to correct minor but distracting errors ("exhaustive" when "exhausting" is wanted, "'irked' out a living," "failure to survive" when the author means "failure to thrive," "insisted on driving me and my family and me to the airport," the occasional inappropriate choice of words apparently selected from a thesaurus, and a few repetitions of paragraphs that were apparently expanded into full chapters during editing), but by and large the writing is excellent. The writer's own voice comes through. He is a natural story-teller, you will feel as if you know and love his mother as he does, and his book is a page-turner.
We are not just mere pinballs randomly bouncing off this and that and going where chance or fate lads us. But a loving Father in Heaven leads us and guides us as an earthly father would. As great as His influence was in my early life, absent the little effort on my part to seek it out, I have since learned I can go to Him and ask for specific guidance and inspiration regarding the choices and decisions I have to make every day a an employee, husband and father. I know there is not one plan of salvation, but as many plans as there are his children who come to earth. He is still there every day, as much as he was in Uganda and in Italy. His still small voice still speaks to his son.
Through Some Miracle is highly recommended. It should be picked up and marketed by some LDS publisher who will see that it receives the attention and widespread distribution it deserves.