I don't spend much time thinking about my mission anymore. It was not the best two years of my life, and if I could relive my life in a way to repair the mistakes, I wouldn't be a different kind of missionary – wouldn't be more or less observant of the rules, wouldn't have said this instead of that at some critical point — I wouldn't have gone on a mission at all. Still, as disastrous as it was, as much as I will live with the consequences of that mistake until my death, if not beyond, there were some bright spots. Yesterday's Sunday School reference to the prophetess Huldah reminded me of the brightest of those bright spots.
Huldah – or "Holda" in her language – was from Madagascar, although I didn't know that when I saw the new family in the foyer of the chapel at Marseille, Holda and her husband and four children. They were new to me, but they seemed to know several people who chatted freely with them. During fast and testimony meeting that morning Holda left the chapel for a few minutes to take care of her infant, and her husband, Mamy, chose that moment to stand and bear his testimony. He told us their names – all Malagasy names seem to start with "Ra–" and go on for miles – Ramamonjisoa and Rakitonirainy were two Malagasy names I later became familiar with – but since I haven't asked Mamy's permission to tell his story I won't spell out his full name here. His wife, he told us, was not LDS, but she had agreed to come to Marseille to hear the gospel. He hoped someone in the chapel that day would teach her.
Well, it was August – vacation month in France, where nobody seems to be home and everybody you meet on the street is from somewhere else. Missionary work was dead, deader than usual, even for France. During the closing prayer, I watched from under my lashes as the six elders in our district drifted from their seats to stand at both ends of the bench Mamy and Holda were sitting on, ready to pounce on a rare investigator as soon as they left their seats.
The elders didn't have a chance. The instant the "Amen" came, I leaned forward over the bench in front of me, thrust my hand out to shake Mamy's, and introduced myself and my companion, Maggie, and asked if we could visit the family later that day. Mamy was a little startled by my aggression, I think, but he gave us their address, and I smiled sweetly at the frustrated elders as we all left the chapel. (Well, Holda was a woman, and by all the rules of missionary work teaching women rather than men or entire families was supposed to be the work of the sister missionaries.)
Mamy told us their story in that first meeting at the tiny, tiny – and very hot; it was August on the Mediterranean coast, and there was no air conditioning – apartment in the midst of the mattresses that were propped against the wall, ready to be laid on the floor at night for the children's beds.
Mamy had been a student in Marseille in the late 1960s when he had met a pair of missionaries on the street. He had joined the church, been ordained to the Melchizedek Priesthood almost immediately (it was rare in those days for converts to receive the priesthood that quickly), received his patriarchal blessing from the German-speaking patriarch in Switzerland, and, upon completion of his studies, returned to Madagascar. Today there is a mission centered there, but at that early day Mamy was believed to have been the only member in that country.
Because he was alone, religiously, he had associated himself with a local Protestant church in order to have someone to worship with. He played the piano for their services. He married the pastor's daughter. For the eight or nine years of their marriage, he had tried to teach Holda about Mormonism, but she wouldn't listen to him. She told him repeatedly that she didn't want to hear doctrine; she could only judge a church by watching how its members treated each other, and since there was no Mormon church in Madagascar, she refused to listen to anything.
Finally, she told us, Mamy's sadness got to her. He so much missed his own church, and so badly wanted her to hear the gospel it taught, that in order to please him she agreed to go somewhere where there were Mormons. That meant Marseille, the only place Mamy knew where to find the church.
But restrictions in place at that date, almost 30 years ago, prohibited Malagasy residents from moving permanently from the country, and Mamy and Holda had decided that if she liked the church they would stay and raise their family where they could go to a Mormon church. They couldn't tell anybody they planned not to return – when she said goodbye to her father, already in his 80s, she knew it was the last time she would see him, but she couldn't tell him that. Mamy and Holda were also required to purchase round trip plane tickets for their entire family, a prohibitive expense, and they were barred from taking more than the smallest amount of cash with them. They sold everything they owned, and with whatever was left after buying their tickets, they purchased the most expensive hand-tooled leather luggage they could find, and packed trinkets carved from the semi-precious stones of Madagascar in amongst their clothes, intending to sell both luggage and trinkets to support themselves in France until they could get on their feet.
They flew into the Marseille airport on a Saturday. Mamy left Holda and the children at the airport while he took a bus to the LDS chapel, the only place he knew to look for Mormons. Fortunately, there was a group there cleaning the chapel. And even more fortunately, the members of that group behaved in the most Zion-like manner imaginable. One man drove Mamy back to the airport to pick up his family. Another man, a young student, went home to pack his clothes and move out of his apartment, turning it over to Mamy's family for as long as they needed it. A third couple took food and the mattresses over to that apartment. It was these members who were talking with Mamy and Holda the next morning in the foyer, the ones who made it look as though the Ra–'s were old friends.
Even though she had come to Marseille for the express purpose of hearing about the gospel Mamy believed in, Holda wasn't the easiest person to teach. Strong-willed and stubborn, she challenged us at every turn. On one visit she lit a cigarette as soon as we entered the room, puffing aggressively and blowing smoke in our faces. She said, with a fierceness in her voice, "I suppose you're going to tell me I can't smoke today." In fact we did ordinarily ask people not to smoke, believing that it interfered with the workings of the Spirit. But, unplanned, I heard myself tell her, "This is your home. You set the rules in your own home, and we aren't going to try to tell you what to do." She stubbed out the cigarette at that point, and I don't think she ever had another one.
It was hot in that tiny apartment. The children felt cramped, and they were noisy, and it was hard to teach. One day Maggie took the children out to explore the neighborhood while I taught the next discussion to Holda. It wasn't until later that either one of us realized that we had broken basic missionary protocol by separating that way. We hadn't done it deliberately – I mean, we hadn't deliberately chosen to break the taboo – it simply didn't occur to us. I believe that it was what needed to be done in order for Holda to focus on the discussion, and the Lord removed from our minds, temporarily, the thought of that mission rule so that we could do what needed to be done without having guilt. It was the only time we ever did that.
Holda responded well to the discussions, and especially to the continued fellowship of the members in Marseille, but she was having a hard time making the decision for baptism. Something wasn't clicking. We wondered again if it wasn't the fact that she was frazzled, too busy caring for four small and active children in too small a space, in the heat, alone, while Mamy looked for work. So one afternoon Maggie (who, by the way, was Swiss-German and who translated Mamy's patriarchal blessing so that Mamy could finally read it) and I took the two oldest girls – Holda insisted on keeping the two smallest children – to the park to climb trees and run around while she took a couple of hours to think and pray. When we took the girls home that afternoon, we could see instantly that something had changed. Holda's eyes were brighter, her smile was more genuine, and she was at peace. She had decided to be baptized.
And she was, with Mamy doing the baptism and with most of the ward in attendance.
I didn't get to help with Holda's integration into the church – I was transferred a few days after her baptism. Indeed, I was fortunate to have been able to be a part of her life through the whole teaching process and up to baptism, since I was transferred every one or two months through most of my mission. But there are two sequels to the story that I learned long after I returned:
I joined several Mormon-themed internet discussion groups in the mid-'90s. A man named Charlie, in northern Utah, was a frequent contributor to one group. Something he said about his mission suddenly clicked with me one day. I asked him for more information, then was able to tell him what had come from his mission long after he had left. One day in the late 1960s, he and his companion were doing street contacting on the sidewalks of Marseille. His companion, as a joke, nudged Charlie and dared him to approach the dark-skinned young man with the broad nose, who both assumed was an African. Remember, this was pre-1978, and missionaries were not supposed to seek out black men to teach. (Natives of Madagascar were not considered Africans, at least not in the view of President McKay who exempted as many groups from the priesthood restriction as he could, but they do look African, especially from a distance.) The young man on the street was Mamy. So he was contacted purely as a nasty joke, but he accepted the elders' approach, and you see what came of it.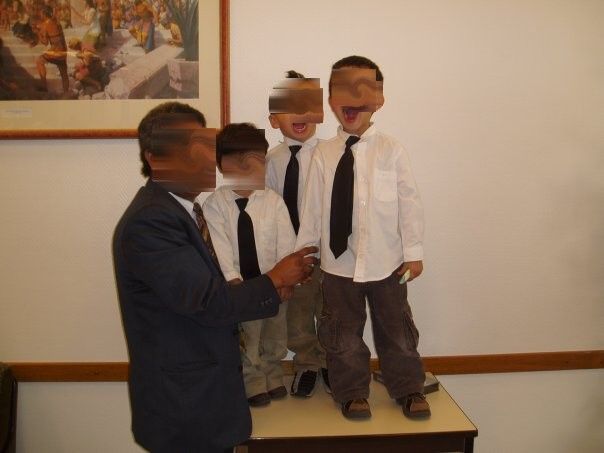 Then last year when I finally joined Facebook and was searching every random name I could think of, I happened to search for the Ra–s, with whom I had lost contact immediately after the baptism. There was the son who had been only 3 years old back in Marseille, now one of the handsomest men I have ever seen, holding an infant of his own! There, too, was Mamy! I reminded Mamy who I was, and he friended me, and I looked at his profile. There was a picture of Mamy, grayer now, but with the familiar gentle smile I recalled, leading a chorus of three young grandsons. It wasn't their white shirts and ties that made me suddenly start to cry. It was the small corner of the picture on the wall behind them – I recognized it as the mural of Christ visiting the New World, and I knew the Ra-s remained active in the Church. Another picture was of a child in baptismal clothes, with both parents and all four obviously LDS grandparents standing behind him, a complete multi-generational Mormon family that is the rarest of rarities in France. I recognized the mother as one of the little girls who had climbed trees with me that day in the park, all grown up, and I recognized Holda as the matriarch.

My mission may have been the greatest disaster of my life, but it no longer seems quite so bleak.