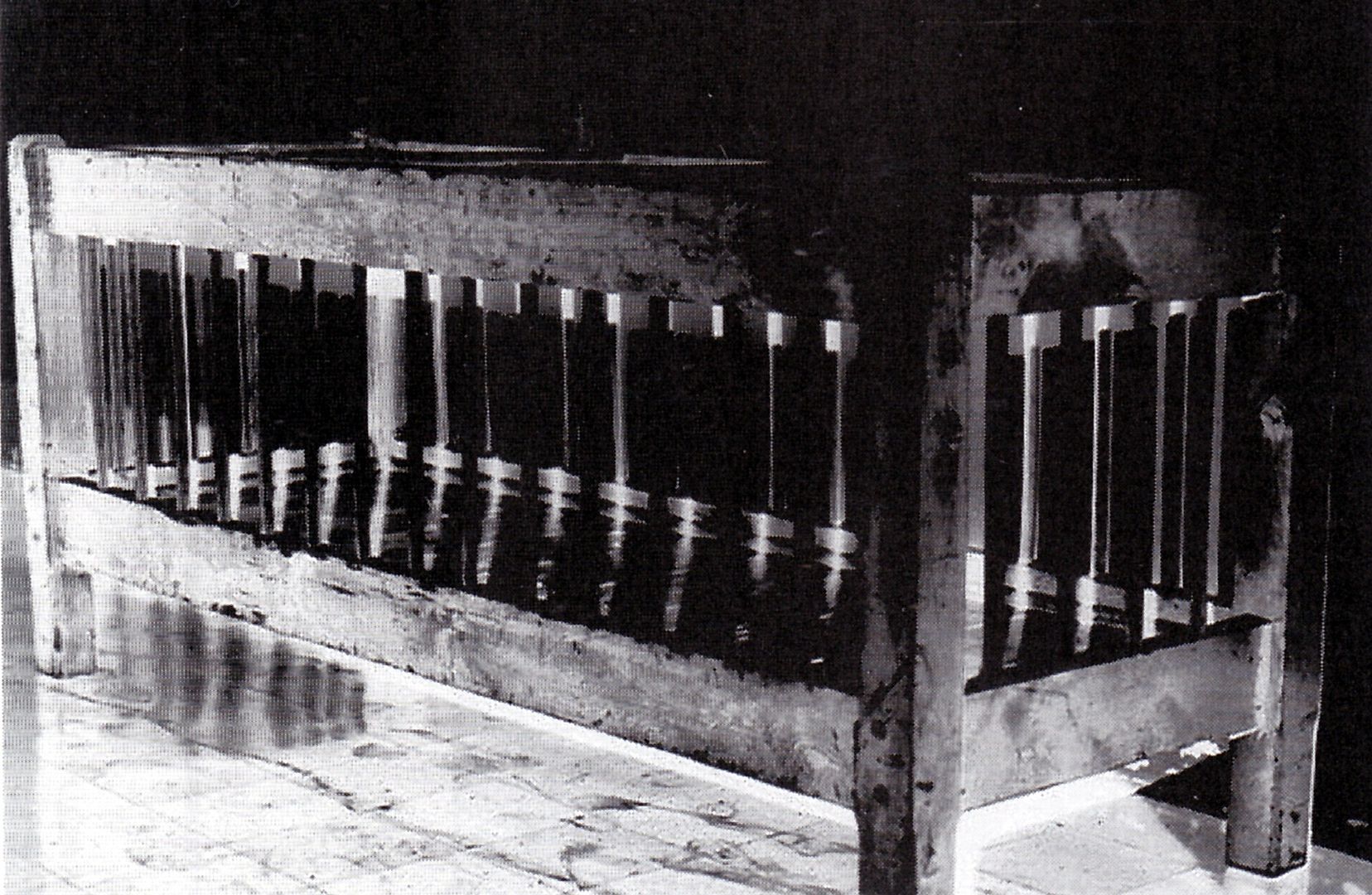 My copy of the new Utah Historical Quarterly came yesterday. A photo-essay on the history of the Utah State Hospital, "Reflections," by Janina Chilton, immediately caught my eye. Among the photos were several that dated from early in the 20th century, showing buildings, staff, and equipment that must have been known to Cora Birdsall during her confinement to that facility in 1905-07. One picture, that of the "Utica bed," quite literally took my breath away for a few moments. This coffin-sized device, a cage-like bed in which a patient was fastened and covered with a barred frame, restrained a patient and "enforced rest" by allowing very little bodily movement for hours at a time. Cora was a combative patient. Cora very likely spent some of her nights in that horrible restraint.
Cora Philena Birdsall was my 2xgreat-aunt, the sister of my great-grandmother. She was born in Des Moines, Iowa in 1869, the oldest of her parents' children, and died in Marysvale, Utah in 1948. If she was married at all – there is one as-yet-unconfirmed suggestion that she may have been briefly (as in a period of a few weeks) a plural wife – she had no children. Nobody remembers her now except me, and one or two cousins who have been interested in her story, although a hundred years ago her name appeared in newspapers across the country, and her life history was discussed in the halls of Congress.
The year Cora was born in Iowa – 15 years before her family considered joining the Church – was an important one to Utah. Not only was the transcontinental railroad completed, with the last spike being driven in Utah, but the first federal land office opened in the Territory. Until 1869 – 22 years after Mormon settlement – no one in Utah owned an inch of the ground they had cleared and farmed and on which they had built houses and canals and factories. All their improvements had been at risk during those years: depending on what Congress chose to do, they might suddenly find that strangers were legally entitled to sweep in and help themselves to all the Saints had built.
Instead, Congress implemented a homesteading law similar to that employed elsewhere: Once the land had been surveyed and registered in the federal land office, people could file a homestead claim on their land and, upon filling the requirements to establish their claim, pay a relatively small per-acre fee and receive legal title to their land.
Of course, the federal survey was an alien system overlaid on the existing realities. That is, you, as a homesteader, could file a claim for 40 acres, but that had to be these 40 acres as determined by the federal survey section lines. Never mind that those federal lines did not correspond to the land you had actually been farming for 5 or 10 or 20 years. The federal 40 acres might include most of your farm, but not that corner to the south where you ran your cattle – that was in the 40 acres that your neighbor to the south filed on as his homestead. And your 40 acres also included that wheatfield on the northwest that really belonged to your neighbor to the north – he, not you, had cleared that land, built the irrigation system, and raised a crop there for the last few years.
Federal law provided no mechanism to compel the righting of these injustices, so the Church stepped in. The Church expected that when you proved up on your 40 acres, you would immediately deed that northwest wheatfield to the neighbor who had been working it as his own; he was expected to immediately reimburse you the per-acre homesteading fee you had paid, but other than that no money changed hands. Likewise, when your neighbor to the south proved up on his homestead, he was expected to deed you that strip where you ran your cattle; you reimbursed him for what he had paid the government for those acres, but no more. The system worked pretty well, partly because everybody was affected and had an interest in seeing that the system worked, and partly because in the few cases where people refused to do the right thing, the Church stepped in. By that time, the only leverage they had was to threaten your church membership if you did not comply. That didn't always work, but it had enough weight that there were apparently few cases where an amicable settlement could not be reached.
Enter the Birdsall family of Iowa. In about 1884, long after the railroad had made such grand adventures unnecessary, the Birdsalls joined a group of friends who were touring North America by covered wagon. They rented out their Iowa property and set off for California, camping along the way just as overland travelers had done for decades. They expected to return to Iowa after a couple of years of seeing the wild west.
When they reached Salt Lake City, however, the Birdsalls decided to look up Abraham Washburn, a cousin who had converted to the Church and moved west years before. By the time they found him in central Utah, it was too late to continue on to California that year; they decided to stay in Monroe, Utah, for the winter and then continue west the next summer.
Their plans changed.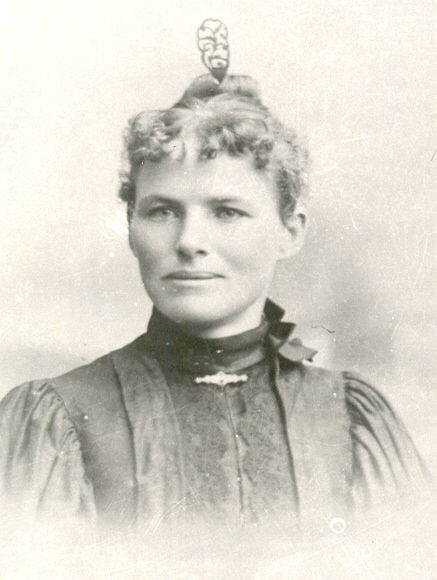 Instead of going on to California, this originally Quaker family became Mormon converts, and settled in Sevier County. Cora and Elsie May (my great-grandmother) attended the Sevier Stake Academy (one of their schoolmates was Orestes Utah Bean, later of Corianton fame). They got their patriarchal blessings, 15-year-old Cora serving as the patriarch's scribe for all their blessings, including her own. They went to the Manti Temple and were sealed as a family. That's the temple where Elsie May was sealed to her husband in 1890. If there was a family resemblance, Cora may have looked something like her sister, Elsie May (we do not have a photo of Cora).

Isaac Birdsall, the father, took up farming, and he homesteaded his 40 acres, exactly the same as he had done in Iowa. But when the time came to "prove up" and pay the per-acre charge, the country was in the grip of a national depression and there was no cash to be had. Isaac lost his homestead right.

Cora filed for homestead on the same property in her own name. She was old enough by then to meet the federal requirement, and somewhere along the line (perhaps because of that possible short-lived plural marriage that did not endure past the Manifesto) she had decided that she would need to take care of herself the rest of her life. Cora built a small house on her land; she fenced it; she began planting small trees on land that had been claimed under the Timber Culture Act. She began to farm. She rented out a pasture to a family that had used it to graze their cattle off and on for years – they sometimes lived in Arizona, too – but she finally canceled that rental when the family's payments were too sporadic.

Cora also was called to be a counselor in her ward Relief Society. Feeling that she was not adequately available to her sisters while she was living out on her homestead, Cora moved into town and rented a room for a couple of years to make it easier for her sisters. She felt it was a necessary sacrifice for her calling, especially since she was often needed to serve as a nurse.

On May 12, 1899, Cora proved up her homestead, paid the fee, and became the legal owner to 40 acres of land. Such a proud day that must have been, for both Cora and her family!

Cora's undisturbed possession of her land lasted two years when, in 1901, the family she had once rented pasture land to showed up again from one of their periodic stays in Arizona. She discovered they were back when she and her father were summoned to a bishop's court, charged with unChristianlike behavior. The family charged Cora with failure to deed them the pasture land they had formerly used – they claimed it was theirs by right of having used it to run cattle prior to the Birdsalls' arrival in the area.

Cora protested. She had been unaware of the family's occasional use of that land way back at the time of her own birth, long before the Birdsalls had come to Utah. The family had never broached that claim during the years she had rented to them – she produced the rental agreement as evidence that the family had asserted no prior claim. When she proved up they had not come to her to ask her to deed them the pasture. Even if they did have a tenuous claim because they had used that land once upon a time, it was not continuous use, she had never received notice of it, and it wasn't fair for them to show up now and demand that she give them her land.

The bishop's court thought otherwise, though, and ruled that she needed to deed that pasture to the other family. Cora appealed to the stake. The stake high council concurred with the bishop – the other family had once used that land, so they had a claim to it under Mormon principles of land ownership. It may not be fair to Cora, under the circumstances, but it was necessary to uphold the general principle in order to keep the system working. Cora was told to deed the land to the other family. Cora appealed to the First Presidency; they told her to abide the decision of the high council.

The decision weighed heavily on Cora. She brooded over it, and delayed responding to it. When notified that she would be excommunicated if she did not comply, she did not respond. She was excommunicated.

I have unusually detailed reports of what happened to Cora over the next few years. They show a woman descending into madness – perhaps sparked by depression, but probably involving other factors, including intense paranoia. From the testimony of those who knew her, I think she was unable to reconcile her genuine faith in the gospel and in the justice of those who served as church leaders with the injustice of taking from her the land she had worked so hard to own. Cora made multiple suicide attempts, tried to harm others, and became so irrational and out of touch with reality that at last she was confined in the Utah State Hospital at Provo.

Whatever treatment she received there "calmed" her to the degree that at last, in 1907, her mother convinced the court to rescind her confinement order and allow her to live again at home. Cora may have been passive and broken, but she never recovered. When her mother died in 1914, my great-grandmother took Cora to live with her, and Cora spent the rest of her life – 34 more years – living in a back bedroom of Elsie May's house, wandering the hills alone during the day until Elsie May would go out to find her and lead her back.

My mother was born in that house, with Cora in the back bedroom. She never really understood who Cora was, though, or how she had become the silent, ghost-like woman passing through the room on her way to the outhouse or to wander in the hills. When my mother visited her grandmother all through her childhood, she was instructed to pretend not to see Cora and not ever to speak to her, because it made her "unhappy." Other cousins and more extended family members were given the same instructions. When she died in 1948, Cora was buried near her mother in Monroe; I wonder how many people in the town where she had lived for 34 years knew she had died – or even that she had lived?

It would be easy to blame the Church for Cora's breakdown. No doubt her ward and stake leaders could have shown more compassion and perhaps even have reached an equitable settlement, if they tried. For a time, Cora's case became a cause célèbre – her story was used in the Smoot hearings as evidence that the church interfered in civil law, and one of the many articles carried by the Salt Lake Tribune blared the headline: "Church Hounds Woman to Madness."

But it's much more complicated than that. We understood so little about mental illness a hundred years ago – when her stake president said that she was possessed of an evil spirit and her sanity would return once she signed the deed, his ignorance didn't reflect Mormonism, especially, but expressed a common assumption in America. There are also gender issues involved – I read the transcripts and mentally see the young, inexperienced Cora trying to prove a legal point by pleading her case to a room full of much older men whose own economic welfare depended upon upholding a system that had preserved their own ownership to their own land. The bishop's court and the high council seem to have treated Cora with the same respect and given her the same opportunities that they would have given a man – which was part of the problem, since she didn't have the experience of the men. I sincerely believe that everyone involved – with the possible exception of the family making the claim, who admitted that they had gone to the church court rather than the civil court because they believed the church could put pressure on Cora while the civil courts would not – did the best they could, without realizing the destructiveness of their ignorance. Cora was just as damaged by their sincerity as she would have been had they been willfully evil, though.

This is one of those heart-breaking wrongs that can be made right only by God, as part of the all-righting atonement of the Lord Jesus Christ. I think my great-grandmother knew that. It's the only way I can explain why none of her descendants, until the arrival of a nosy great-granddaughter, was aware of the Church connection to Cora's broken mind. Elsie May never turned the heart of a single grandchild against the Church because of what had happened to her sister. I'm grateful for that.

And I remember Aunt Cora, and claim her proudly as my kin, and look forward to meeting her one day, whole in mind and spirit.