(See here for background)
Keepa'ninny Bessie — who shared pictures of her paper Salt Lake City — tells this story about this "Be Honest With Yourself" card:
The cards were not cheesy to this 1950s teenager. Through the years I'd regretted not keeping better track of mine. Then I found this one in my father's things after he passed away in 1992. And I knew why he kept it.

That is his daughter (me) sitting on the fountain stool to the left.

His friend, the druggist at the A. & G. Drug Store on South State Street, gave me a job in about 1958. I worked the fountain, clerked, and delivered prescriptions in Mr. Anderson's little blue jeep. He asked if I'd like to be in a picture they were shooting there one Saturday. The girl behind the fountain in the white starched uniform was working, and her sister and I would be patrons at the fountain in the picture. I was surprised when the card came out to see me wearing a red top. I had worn a blue flowered two-piece dress I'd sewn myself. I was pretty happy though; I looked so much better than in real life.
From 1959 —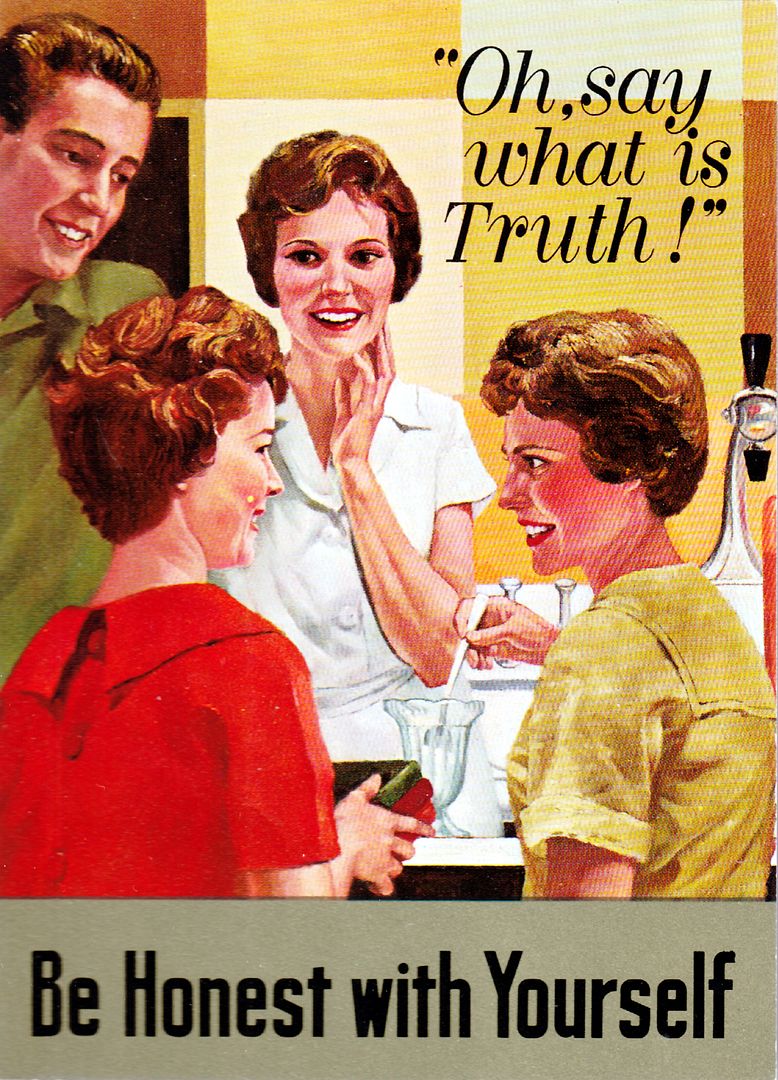 Oh, Say What Is Truth!

What a wonderful world this would be if everybody believed and practiced the teachings of the Saviour:

"Ye shall know the truth,
and the truth shall make you free."

Lucky for you who live in a land built on a belief in truth and justice. Not all people are so fortunate.

As children we are naturally honest. And we would likely so remain but for the bad examples, group pressures, or lack of effective moral teaching in our lives.

Should untruthfulness creep into our lives it is likely to come first in faint disguise: in exaggeration; in concealment of some pertinent facts when people have a right to believe that what we say is the whole truth and nothing but the truth; in pretending that we agree with someone else's statement when he expresses an idea or an opinion which is contrary to our own; in refraining from speaking up in defense of a person or a cause when we know we ought to do so; in making promises which we do not intend to keep.

Only after we have grown callous to some of these milder forms of indirect deceit are we likely to tell deliberate falsehoods. Most people are innocent of intentional and outright deception.

Young men and young women: how valiant are you to defend the truth? Do you stand up to the careless opinions and irresponsible claims which are so often expressed when young people engage in casual talk?

How careful are you in expressing your own opinions and in sticking to facts in your own speech?

If all people were strictly truthful and honest, righteousness would soon cover the earth –and heaven would not be far beyond!

So, believe the truth, tell the truth, love the truth, live the truth.

BE HONEST WITH YOURSELF