A review of the people involved in the Mormon and Old Settler conflicts in Missouri in the 1830s will provide a list of familiar names of some of the most notorious aggressors: Boggs, Lucas, Clark, Bogart, Price, as well as many others. One not quite obscure but not readily familiar name is that of Cornelius Gilliam, captain of a belligerent Missouri Militia battalion.
Gilliam's offenses occurred in 1838 in the Far West and Adam-Ondi-Ahman areas of Caldwell and Daviess counties and are disclosed in the redress petitions prepared in response to the Lord's instructions in Doctrine and Covenants 101:76. Gilliam's name is mentioned in twenty-seven of these petitions and related memorials as compared with Boggs's seventy-one, Clark's eighty-one, and Lucas's sixty. Gilliam is described as leading a mob of 200 men with faces painted black with red spots, forcing families out into the cold, plundering and burning their homes, and stealing their livestock.[1]
Gilliam was born in 1798 in North Carolina or Florida, whichever version of history you prefer. [2] His family moved to Missouri when he was a child. He claimed to have fought in the Black Hawk war of 1832; was in the 1837 Seminole War in Florida as a Missouri volunteer; was such an effective runaway slave catcher that he was elected sheriff of Platte County and was generally looked upon as a leading citizen. His daughter, Martha Elizabeth, described him as an Old Testament style preacher who considered Mormons to be like the Philistines, to be killed for the good of society. [3] The state of Missouri promoted him to colonel for his actions. He was a Free Will Baptist and was ordained to the ministry in 1845.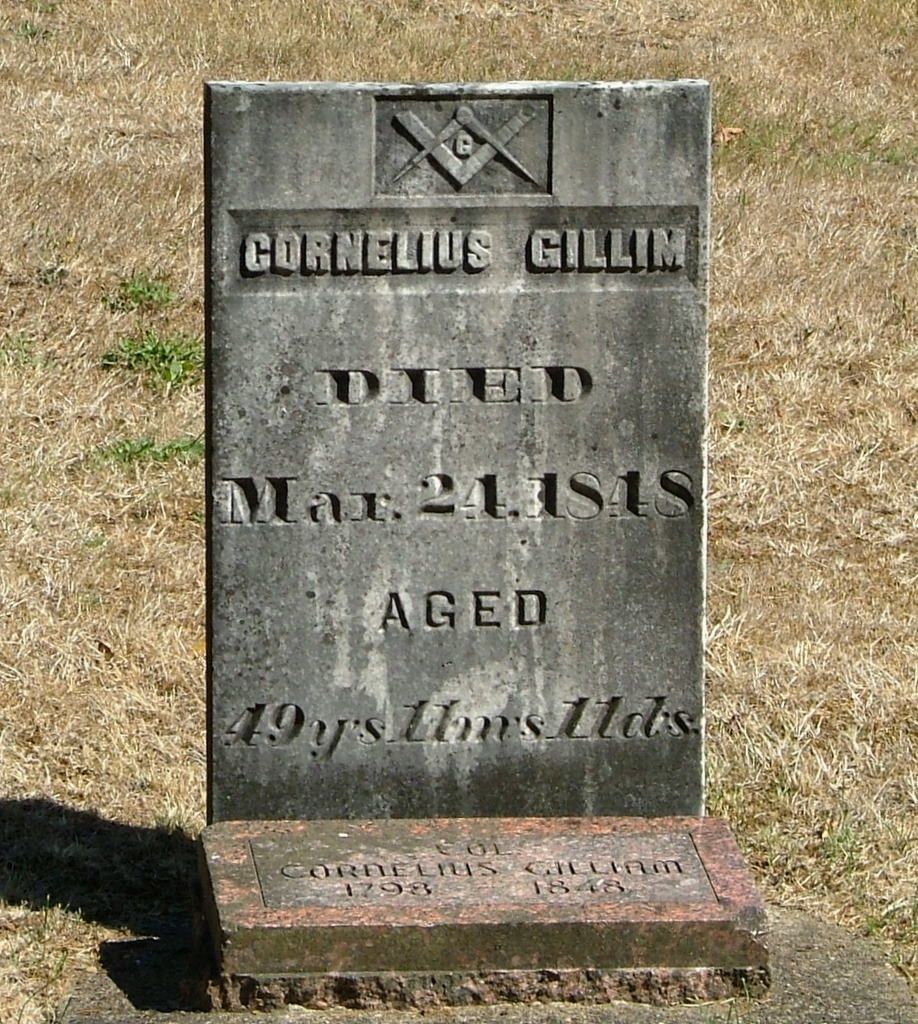 In 1844, Gilliam decided to emigrate to Oregon, packed up his family and led one of the first large wagon trains to make the trip, with 307 people. He first settled in Polk County, then moved to Benton County. He was barely settled when, in 1847, missionary Marcus Whitman, his wife and several others were killed by the Cayuse Indians at their mission near Walla Walla. The government of the as yet-unformed territory decided to send a punitive force, and Gilliam was elected its colonel. A 500-man force went east and fought several engagements with the Cayuse but failed to apprehend the actual culprits. On the return trip, on March 28, 1848, Colonel Gilliam was pulling a rope from his wagon when it became entangled with a gun, tripped the gun's hammer and fired, killing him instantly. A memorial is still in place at the site. Colonel Gilliam was not forgotten; in 1885, Wasco County was divided and the new county was named Gilliam after the colonel.
But even after this honor and his being remembered as a fallen hero, how did Gilliam's legacy go into the next century?
We must now forward to 1942. With the United States heavily involved in World War II in distant places, and the country having assumed the role of the "arsenal of democracy," ships were in short supply. A campaign was begun to build what finally became 2,571 utilitarian transport ships from a single design. These "Liberty" ships were slow moving but effective, manned by Merchant Marine crews, and basically unarmed. They were named for historic characters, places, events and whatever caught the fancy of the officials. [4]
On June 16, 1942, the USS Cornelius Gilliam was launched and became part of America's freedom fleet. She took part in a number of convoys and avoided the torpedoes of several U-boat wolf pack attacks. In 1943, she was part of Convoy UGS-6, eastbound out of New Jersey. Three ships were lost including a French transport; the Molly Pitcher, named for the heroine of the Battle of Monmouth in the Revolutionary War; and the Benjamin Harrison, named for our 23rd President. The Cornelius Gilliam served for the remainder of World War II and beyond, a period we will cover later.
Another honor – one step removed from Cornelius – was yet to come. On August 1, 1944, a new, fast attack transport ship was introduced when the USS Gilliam was commissioned. This vessel was named for Gilliam County, Oregon, which was, of course, named for Cornelius. She was armed with a 5-inch deck gun emplacement and four twin 40mm antiaircraft mounts. Her engines were the latest design and she was deemed capable of keeping up with navy landing fleets. She earned two battle stars in the Pacific campaigns, coming under fire and kamikaze attacks at Leyte Gulf and Okinawa. She offloaded troops and cargo at both of these landings. She continued in service, including returning troops home after the Japanese surrender in Operation Magic Carpet, debarking 1,000 soldiers and sailors at Portland in November 1945. The Gilliam's last service was in Operation Crossroads at Bikini Atoll July 1, 1946 where she was sunk, along with many other target ships by the explosion of a Nagasaki-type plutonium bomb. Her twisted hull still rests on the bottom of that lagoon. [5]
The other ship, the Cornelius Gilliam, continued afloat for many years. Her most interesting voyage was in 1946 from London to New York with a boatload of war brides. The brides were met by their husbands, if possible, but in any event caught trains to their stateside destinations. Two of those war brides who endured a rough ocean crossing in the rocking ship were headed to Utah. One was Mrs. Rosina Spencer, who was headed for Spanish Fork, Utah with her 10-month-old daughter, Diana Mae. Rosina was an Armenian girl from Alexandria. Her husband William met the train in Chicago. Arriving in February, Rosina was disappointed by the weather as compared to that of Egypt. The other bride was Doreen Sessions, an English girl. She was met by her husband Royal Sessions of Clearfield. She did not comment on the weather, but stepping off the train and seeing her husband, she dropped her bag and ran into his arms. [6]

The Cornelius Gilliam's remaining life is obscure. The record merely shows she was scrapped in New York in 1970.

Many old sailors feel each ship has a soul. Perhaps the services of these two vessels provide a fitting reversal and a partial redress for the rocky mortal life of their namesake, Colonel Cornelius Gilliam.

[1] Clark V. Johnson, Mormon Redress Petitions: Documents of the 1833-1838 Missouri Conflict (Provo, Utah: Brigham Young University, 1992), 152 (Reynolds Cahoon petition), 39-40 (Lyman Wight petition), 140 (James R. Bingham petition), 135 (Calvin Beebe petition).

[2] See New Family Search for details.

[3] Fred Lockley, Interview with Martha Elizabeth Collins (nee Gilliam), The Quarterly of the Oregon Historical Society 17 (1916), 358-372.

[4] Two Liberty ships were named "Joseph Smith" and "Brigham Young".

[5] USS Gilliam

[6] Deseret News , February 6, 1946.