Upon taking leave of a group of his followers in 543 B.C.E., the Buddha is reported to have said, "All things change. Nothing is permanent."
They must have seemed permanent, those huge carvings of the Buddha hewn out of the cliffs near Bamiyan, Afghanistan. At least, they stood there for approximately 1,500 years despite damage caused by earthquakes and by the rifle fire and even cannon shot of the armies of the world traveling on the ancient Silk Road between China and India and the West. The caves that pepper the cliff faces around the statues served as quarters for traveling monks. Centuries ago the region passed from Buddhist to Islamic control, but the Bamiyan Buddhas remained an attraction not only for Buddhist pilgrims but for scholars and tourists who appreciated the carvings as part of humanity's shared cultural heritage.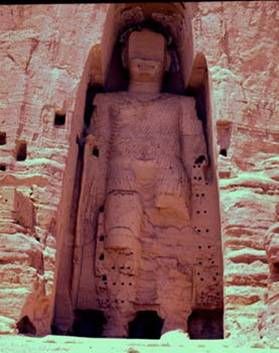 Until March 2001. You probably remember hearing news that the Taliban had dynamited the Bamiyan carvings and used anti-aircraft weapons to obliterate all traces of the figures, leaving only their empty niches on the cliff faces. The Taliban couched its announcements of the destruction in terms of religion – Sharia law forbade "idols," including all depictions of human or animal forms – although political motives were also likely involved, since the region around Bamiyan had not yet been brought fully under Taliban control. Then came 9/11, and when we thought of Afghanistan or the Taliban our thoughts were no longer focused on the destruction of ancient artworks. Now there is talk of reconstructing the destroyed statues by means of laser representations. That, or any other form of reconstruction, is apt to be years down the road.
I don't think I had ever heard of the Buddhas of Bamiyan until the outcry over their 2001 destruction. I wasn't as well educated as the little Mormon boys and girls of the late 19th century, whose Sunday School leaders – with no fear of the religious objects of others – had an appreciation of these "monuments of perseverance not unmixed with skill" and pronounced them "worthy of preservation."
From the Juvenile Instructor, 1888 –
.
.

An Immense Statue.

We of the United States have been wont to look upon the Bartholdi Statue of Liberty in New York Harbor as a wonderfully large image, and such it is when compared with similar productions in the civilized world; but there is a statue of very ancient construction which is no less than one hundred and seventy-three feet high, thus exceeding by thirty-six feet that of which the American people feel so proud. Of the former, which is worthy of being considered one of the world's wonders, we to-day present our readers with an illustration.

This remarkable piece of work is located near the small town of Bamian in Afghanistan, Asia, where four other figures of immense size, though less than the one here illustrated, are also situated. They are all cut out of the solid rock of the perpendicular walls at the foot of the Hindu-Kush Mountains, and are so large that caravans camp beneath the folds of the skirts. Within these images stairs are cut, by means of which access can be had to the body and head, while in the adjoining rocks there are, it is said, no less than "twelve thousand galleries" in which a whole people could find room and shelter. The bluffs, as can be seen in the engraving, are pierced with so many chambers as to make them look like beehives.

It is supposed that these remarkable pieces of work were constructed about nineteen hundred years ago by Buddhist monks who were at that time very numerous in that region. The first description given of them was furnished by a Chinese pilgrim, Huen Tsang, who visited them about 630 A.D. Even at that time he considered them very old.

The Hindoos, when they pass either or all of these carved figures, raise their hands in adoration, but others hurl stones at them. Soldiers in passing have even levelled their cannon at the lower portions, the result of which is that these parts are somewhat mutilated and partly demolished.

Whatever motive may have prompted the carving of these images, they are monuments of perseverance not unmixed with skill, and because of their antiquity as well as their enormous size are worthy of preservation.