January 16, 1938, seemed to be a routine Sunday on Temple Square. The Tabernacle Choir had given its "Music and the Spoken Word" broadcast over KSL Radio earlier in the day, and regular worship services were underway. At 2:00 p.m., almost 2,000 people were at a conference inside the Tabernacle. About 200 were attending a German-language service in the Assembly Hall. The ground was bare of snow, the lawns a wintry brown.
Shortly before 2:00, three men entered the Tabernacle and took seats in the gallery behind the Choir seats. They were 71-year-old George Odis (or Otis; 1866-1951), son of a French father and a Middle Eastern (perhaps Armenian) mother, perhaps born in Jerusalem, excommunicated from the Church in 1936; 67-year-old William Henry Wall (1870-1958), born in Louisiana and now of Provo, father of 13; and 57-year-old Paul Alma Millet (1880-1956) of Orem, father of 12, excommunicated a year earlier for apostasy, "slandering church authorities and spreading false propaganda." The trio were well known among Tabernacle doorkeepers, having caused disturbances in meetings on at least two occasions, resulting in their arrest by police. When custodian Matthias Mertlich (1887-1969) saw them there, he ordered them to leave; they left, quietly.

They returned a few minutes later, this time accompanied by Archie Levon Millet (1908-1983), son of the older Millet, carrying large bundles as they approached a door on the west side of the Tabernacle. They were turned away from that door, reserved for Choir members, and directed by a doorkeeper who neither recognized them nor, apparently, thought there was anything odd about the large packages they were carrying, to go around to the south side of the building. As they circled the Tabernacle, however, another doorkeeper, 63-year-old Julius Lemperle thought he recognized them; suspicious, he followed them at a distance.
Denied entrance yet again by another doorkeeper who recognized them, the men unwrapped their bundles. Two of them proved to be three-gallon tanks of the kind used by gardeners to spray flowers – but these tanks, operated by hand pumps, were filled with gasoline. The two men not carrying tanks were armed with clubs, described variously as the handles of pick-axes, or the spokes of a wagon wheel.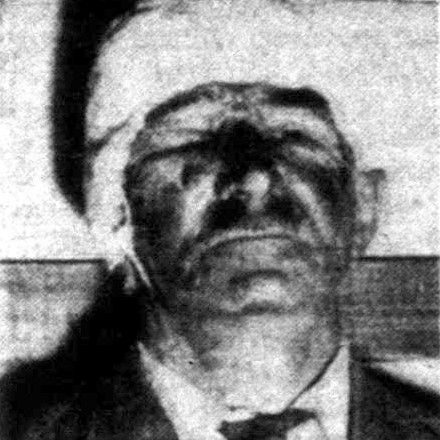 The men began shouting scripture, declaring that their leader, George Odis, was "the Prophet of the Living God" and calling all Mormons to repentance. They sprayed gasoline on the walls of the tabernacle, attempting to get close enough to spray the wooden doors. But Julius Lemperle had by then reached them, and seizing Odis around the chest attempted to pin his arms. Odis, however, looked coldly into Lemperle's eyes as he sprayed the man with gasoline, and then calmly lit a match. Lemperle's head and arms went up in flames. He dropped Odis, then ran toward the bare lawn and dropped to the ground as Herman Neumann, president of the Germania Athletic Club, who was just leaving services in the Assembly Hall, threw his coat over the burning man to put out the flames.

Others among the bystanders – Don G. Lassig, Melvin G. Wright, Thomas Sommer – tackled the arsonists and subdued them, some of them receiving minor injuries as they did so. None of the 2,000 worshipers inside the building was aware at the time of what was occurring outside, nor of the danger they would have been in had not the doorkeepers prevented the men from entering.

Someone had called the police, and Motorcycle Officer Charles J. Larson, Detective David G. Johnson, and Patrolman Fred Kingston arrived. The youngest would-be arsonist, Archie Millet escaped (but turned himself in later that day); the police subdued and arrested the three older men. Julius Lamperle was given first aid in the baptistry under the Tabernacle's west end, then taken to LDS Hospital where he spent a week having his burns treated. The Church paid his hospital bill, but he remained angered for the rest of his days that he did not receive a large insurance settlement – because, he said, the policy required him to have been inside the insured building in order to qualify. Still, he was proud that the entire Presiding Bishopric visited him in the hospital and congratulated him for having saved the Tabernacle (in his mind, according to his quirky autobiography published ten years later, single-handedly).

The men claimed that they had never intended to hurt anyone, nor to cause damage (!), but merely to get the attention of the Mormon people and force them to listen to a message given by Odis after his "personal talks with God." I have not yet discovered what legal consequences were imposed on the arsonists, although I know that Odis, the ringleader, was confined in the Utah State Hospital until he died 13 years later; his body was given to the University of Utah's medical school.

In the 1930s, and for years before and after, the position of Tabernacle doorkeeper was generally given to older men to supplement their income with a few dollars from the Church. They were neither trained security officers nor men with the strength of youth on their side. But in 1938, those doorkeepers, with help from bystanders, averted a disaster.

Photographs:

Left, top to bottom: George Odis, William Henry Hall, Paul Alma Millet, Archie Levon Millet
Right, top, Julius Lemperle; bottom, Julius Lemperle with burns and bandages