The apostle Parley P. Pratt (1807-1857) was one of Mormondom's first "native" poets and is the author of nine hymns in our current hymn book, including No. 1, "The Morning Breaks," which opens every Sunday's broadcast of "Music and the Spoken Word." We met George Careless (1839-1932), early director of the Tabernacle Choir, in an earlier post of this series.
"All Hail the New-Born Year" addresses the millennial year but could just as fittingly be sung to welcome 2010. This scan comes from the Latter-day Saint hymnal of 1927.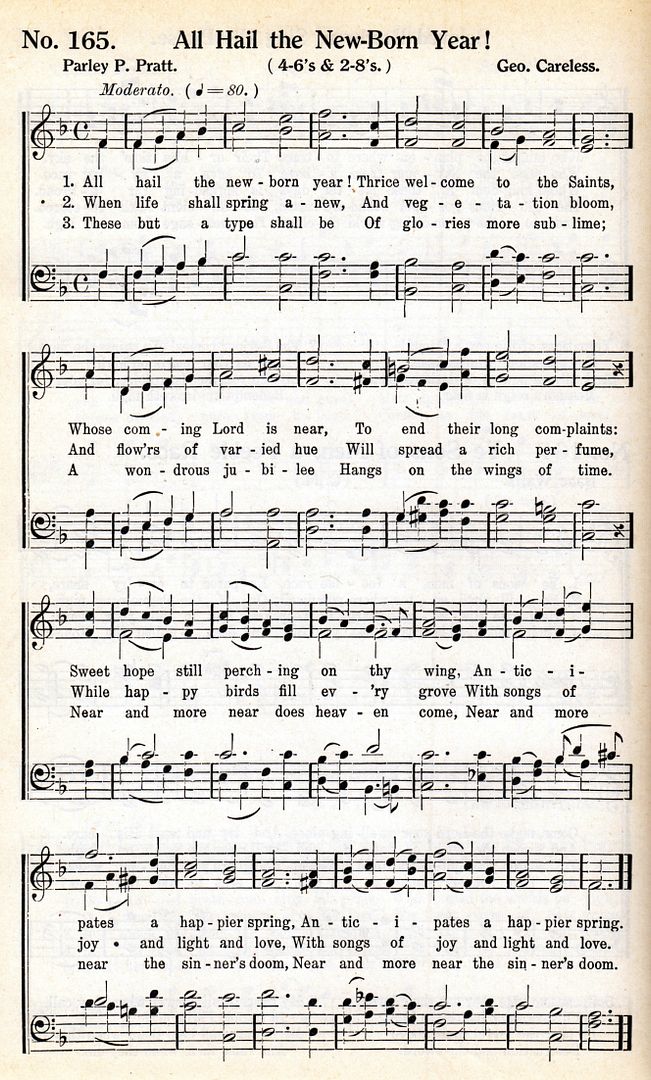 All hail the new-born year!
Thrice welcome to the Saints,
Whose coming Lord is near,
To end their long complaints:
Sweet hope still perching on thy wing,
Anticipates a happier spring.

When life shall spring anew,
And vegetation bloom,
And flow'rs of varied hue
Will spread a rich perfume,
While happy birds fill ev'ry grove
With songs of joy and light and love.

These but a type shall be
Of glories more sublime;
A wondrous jubilee
Hangs on the wings of time.
Near and more near does heaven come,
Near and more near the sinner's doom.

Come, tune your harps anew,
And join in hymns of praise
To Him whose power we view
In these eventful days,
Whose arm shall make the nations yield,
Shall conquer death and win the field.

All hail the glorious King
Of righteousness and peace!
Thy promises we sing,
And hope for quick release;
Let Zion find her promised rest,
And nations in her court be blest.