No doubt Primary leaders saw "Agricultural Growth" as an appropriate theme for the classes of November 1923, because agriculture brought to mind thoughts of abundance and thanksgiving — indeed, the motto for November's lessons was "A Thankful and a Cheerful Heart Offers the Worship Most Acceptable to God." Agriculture also fell under the umbrella theme for the last four months of 1923, "The Latter-day Saints, a Progressive People."
Below are the six line drawings published in the Children's Friend that month for use by teachers as visual aids. With lives so far removed from direct contact with agriculture, and technical progress over the past 85 years, I wonder whether today's children would recognize the activities and objects that teachers in 1923 took for granted, much less the pioneer agricultural activities pictured here.
I'm thankful for the things I eat,
And for the things I see,
For nice fresh eggs the chickens give,
And for the honey bee.
We have so many blessings
I'm sure that you and I
Should do our best to thank the Lord
As day by day goes by.
The farmer is the one they call
"The honest man of toil,"
He shall receive great blessings for
'Tis he who tills the soil.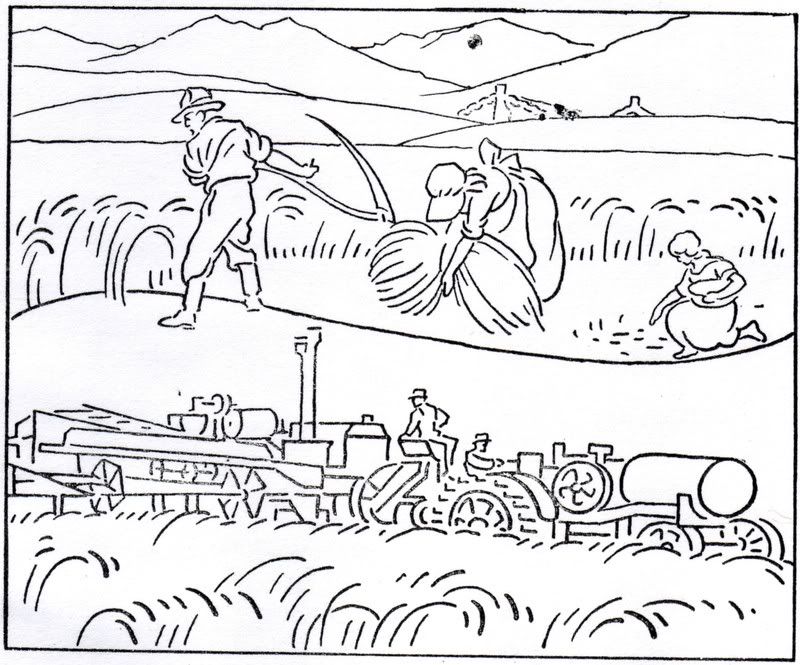 Harvesting in early days
Could not at all compare
With modern times, for now we find
Machinery everywhere.
When harvest time comes 'round each year
The children do their part,
By serving, they can show they have
A thankful, cheerful heart.
Machinery has replaced the churn,
Great factories now we see,
For such advancement you and I
Should very thankful be.