This is a story it will be easy to hate unless you can temporarily suspend the wisdom and judgment of your 2009 perspective. For just a few minutes, let your imagination take you back to the world of the 1930s when most of the scientists and museums shared the philosophy of an earlier age, and when environmentalists were generally not recognized for the prescience and respect the modern world generally accords them.
Gardell Dano Christensen was an Idaho boy, born in Shelley in 1907, and raised as a Latter-day Saint. He loved the outdoors, but he was an artist rather than a farmer, a modeler of clay, and he longed to devote his life to something that used his unique skills. Raising sugar beets wasn't going to do the trick. He was in high school when he read an article about Carl Akeley, a New York farm boy who had gone on to become a great African explorer, accompanying Teddy Roosevelt on one of his expeditions. He was also one of the most notable of the early 20th century naturalists, a taxidermist who specialized in museum dioramas showing African animals in realistic poses in natural settings. Some of his pre-World War I dioramas of lions and gorillas are still displayed at the American Museum of Natural History in New York City.
The article stirred a passionate response in Gardell – "There was work that my talents were crying for."
Two years later [1928, I think, but I may be off] I decided not to put it off any longer and so I landed one cold spring morning in New York City without a cent and not knowing a soul. What followed would make a sermon. That was on Friday. By Wednesday I was started on my career.

To work at anything for the American Museum was the realization of a dream – a dream just beginning. Of course I had to begin at the bottom but what did that matter. The world was before me now and I was young. For seven years I labored and then the dawn came. I was asked to represent the Museum on an expedition to Africa. Would I go? Would anyone go! What had I been working for? I was in Africa for a year. Then the next year to Alaska – off every year for the next four years – to collect many kinds of animals.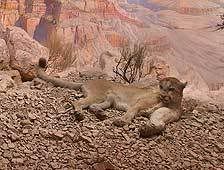 And there, of course, is the point where our modern sensibilities will protest. "Collecting" animals meant killing them, to bring their skins back to New York to stretch over clay models of the once-living creatures. Gardell's role in the expeditions was to observe the movements and poses and social groupings of the animals, to sketch their behaviors and the landscapes around them, and take samples of the trees and leaves and rocks to assist him in preparing the most realistic settings for New York museum displays. And, of course, to prepare the skins of the slaughtered animals.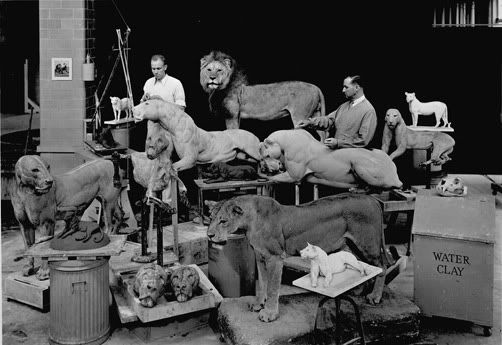 His justification for the killing of these animals (he may not have thought of it as justification – it is just the way it was in that generation) he reported as:
Collecting not for sheer joy of shooting but for the education of children in New York, to broaden their lives, to tell the world of the far away places and to bring the very earth and trees for the people to know and to thrill to a vicarious adventure.
Gardell reported a trip to the Belgian Congo to collect two okapis – considered rare because their habitat was so remote that they had seldom been seen in the west – which was published in The Improvement Era of July 1942. The article shows something of the wonder Gardell felt in being in Africa, on the land he had dreamed so long of seeing.
The road from Kivu to irumu is one of the msot beautiful mountain roads in all the world, past the eternally snow-capped ruwenzori range. Few people are lucky enough to see it, for it is encased in clouds most of the time. We were fortunate, for as we drove past, the clouds opened and there sparkling in the sunlight were the jagged peaks studded with ice and snow.

As we came out of the mountains we entered the great expansek hundreds of miles of impenetrable jungle through which the Congo River and its tributaries flow. Here was the real Africa of story books.
His writing also betrays the superior attitude of westerners toward the natives:
We learned much about these quaint miniature people [Pygmies], how they hunted and gathered their food, how they built their homes and made their clothes and how they always kept happy. One night when the moon was full, they gathered around an open fire and sang. Out in a clearing two fellows began beating on drums, and everyone circled around and weird and frantic dancing began. Sometimes it lasted all night.

The maddening throb of the drums, the mingling of harsh and shrill voices in primitive tones and the surging of crusted feet on hard clay, the rhythmic sway of bodies accented by sudden contortions, glowing and gleaming in flickering light from the red fire and the pale blue moon was an experience never to be forgotten.
Meeting another group in Rwanda, Garden noted that "we played our phonograph for them. They didn't like the classics but did enjoy jazz."
This article also suggests the artist's eye for detail, a talent that he employed in arranging his dioramas. After seeing his first okapi, he wrote:
Here with his strange gait a creature came towards us like something out of a prehistoric age. The first thing we noticed was the weird head with grayish white sides, black nose, and brown forehead and the huge brown ears. The head didn't fasten on to the neck at an angle like that of most animals but seemed to be a continuation of the thin but deep neck that wasn't held high as the giraffe holds his, instead out in front in line with the sloping back, for the shoulders were much higher than the rump. Although they were tall, they were very narrow and lifted their feet extra high as they walked – an adaptation for life in the jungle to be able to pass through narrow trails and over fallen logs. The strangest thing about him was his tongue. The okapi continuously washed his eyes and ears as a cow washes her nose with her tongue. We spent an interesting five days there getting much valuable material to work from.
Gardell worked for the museum until 1941, then sought other work, generally with western museums. He continued to do taxidermy but also developed a less destructive technique for bringing the wilderness and its animals to school children and other city dwellers: through miniature models. You can see here working on one of his most popular displays, a diorama created for the museum of the Montana Historical Society in Helena, depicting the practice of the Plains tribes in harvesting buffalo by driving them to their deaths over a cliff. This time, no animals were harmed in the making of the display.

Gardell assisted the Church in its 1947 pioneer centennial displays by preparing exhibits of oxen – skins stretched over clay models – in lifelike poses.

In the 1950s and '60s, he turned to writing and illustrating books, chiefly for children, detailing the lives of both common and uncommon animals, and preserving forever what he had seen in his travels.

Gardell Christensen died in 1991.

I don't care what direction comments take – you can even blast away at the ethics of killing animals for display, if you wish, as long as you acknowledge that the 1930s were a different world, with different ideas about the natural world.