The lives of missionaries was the topic for study in the Primary classes of July, 1923, as the children learned that "He That Loveth the Lord, Loveth His Brother Also." The lessons were illustrated by pictures that mixed Church history with the scenes from contemporary (1923) life.
As with the other chapters in this series, these pictures and verses were published in the Children's Friend, ready for teachers to color and mount and use as teaching aids. Now they're ready to print out for your kids to color.
The boys and girls are always glad
To do a kindly deed,
They're ever hunting 'round to find
The very ones in need.
They cheer the missionary's wife,
And never do they tire
Of helping her to keep supplies,
And kindling for her fire.
When father once received a call
To preach in distant land,
The neighbors one and all were glad
To lend a helping hand.
They brought supplies that he might need
To help him on his way.
"We cannot go, so we must give,"
I've often heard them say.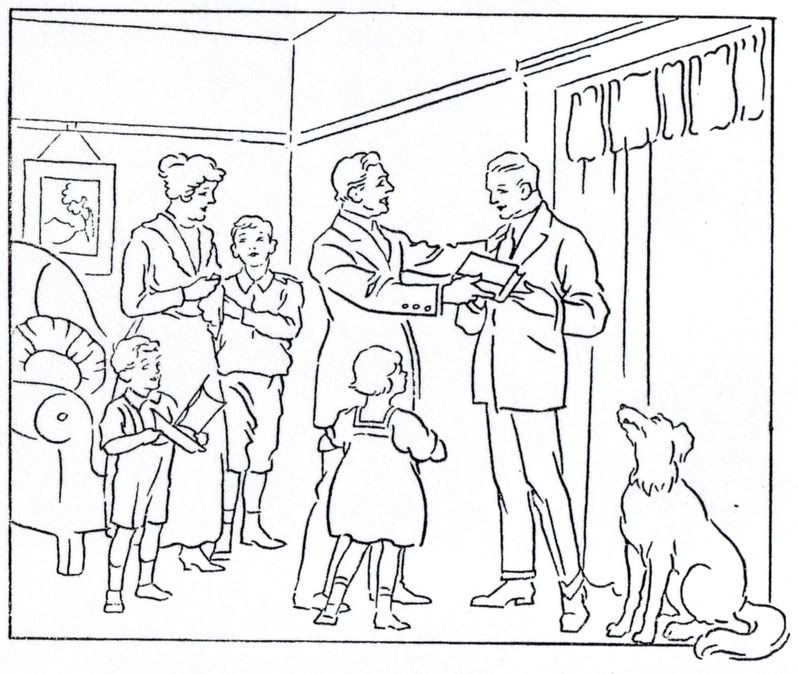 "Go, my son, and God be with you,
Trust in Him with all thy might,
Preach the Gospel to the nations,
Spare no effort day nor night.
"If you truly love the Master,
You will love your brother, too.
Go, my son, and fill your mission.
We at home will pray for you."
The elders go from door to door
And offer tracts that tell
The story of the Gospel plan,
The one we love so well.
They say, "If you have a desire
To know if it is true,
Just pray in faith to God, and He
Will surely answer you."
Although we are not old enough
To go into the world,
And loud proclaim the tidings
Of the Gospel plan unfurled,
Yet we can help right here at home
And missionaries be,
By bringing all the boys and girls
Into our Primary.
The elders stand upon the street
And sound the Gospel plan
Restored in this the latter day
Upon the earth — for man.

They preach repentence, faith in God,
And urge men to be true.
They tell how Jesus loved the world
And died for me and you.

Comments Off

on Mormon History Coloring Book, 1923: July, "Missionary Activities"