Boyd O. Hatch of Salt Lake City, married, father of three, was launching a new career in 1946. After a year in the Army to fulfill the ROTC requirement after his 1939 university graduation, followed by four years of active duty during World War II (he was discharged with the rank of major), Boyd was home again and working in the medical field. He had established a medical photography laboratory at the University of Utah and ran a private business making diagnostic slides for a growing client base of hospitals and doctors, and had won appointment as a bacteriologist for the State of Utah.
As part of his preparation for work in bacteriology, Boyd was injected with a serum intended to protect him from the rabies he would likely encounter in his work for the State. A rare and complicated reaction followed, and Boyd found himself fighting for his life against paralysis and a virulent lung infection. Even after his release from an eight-month hospital stay, he required round-the-clock nursing care – provided by his young wife, Bessie – and multiple daily drug injections.
And this once active outdoorsman, boxer, and fencer was paralyzed from the waist down.
Bessie opened a home beauty shop to support the family. In addition to nursing Boyd, she nursed her three children through a simultaneous bout with the measles, then fell ill herself. She took in a boarder to help make ends meet – a boarder who forged dozens of checks and emptied their bank account before he left town. Boyd, unable to provide for his family or even to protect them from being kicked while they were down, passed through his own dark tunnels.
Then a friend (who deserves to be remembered by name, but I have been unable to discover his name) called on Boyd. Confined to a wheelchair himself in an era when physical handicaps were not accorded many of the accommodations we take for granted today, the friend took Boyd for a ride, showing him how he was able to drive a specially adapted automobile. This proved to be the inspiration Boyd needed, and he began to emerge from his depression. He learned to drive again and began to look for work he could do despite his physical limitations.
No job was beneath him – not even proofreading telephone books, his first new work. Boyd was a meticulous proofer, and he soon found a better job copyediting at the Deseret News. Once there, he studied journalism and drew on his old skills to work as a photographer for the newspaper.
He continued his physical rehabilitation as well, teaching himself to swim, to row, to climb ropes. Always an avid Scouter, he worked on developing and adapting Scout crafts and lifesaving skills to his new circumstances. Learning that there were many young men in the area with similar physical challenges, Boyd founded a Boy Scout troop for handicapped boys … and another … and another – until he was serving as Scoutmaster to five different troops. He taught hundreds of boys and young men Scout crafts, showed them by example that they could engage in sports and games, and freed them from the imprisoning label of "cripple." Over the next few years, Boyd guided 71 of them in earning their Eagle Scout rank, or the Explorer Silver Award.
After his job with the Deseret News evaporated when some functions of the News were combined with those of the rival Salt Lake Tribune, Boyd took a job with the church magazine The Instructor. His formal duties were circulation director (he doubled circulation in the period from 1959 to 1965, from 45,000 to 90,000 – it was a much smaller Church in those days) and managing editor (involving everything from assigning authors to selecting type to checking sources cited in articles).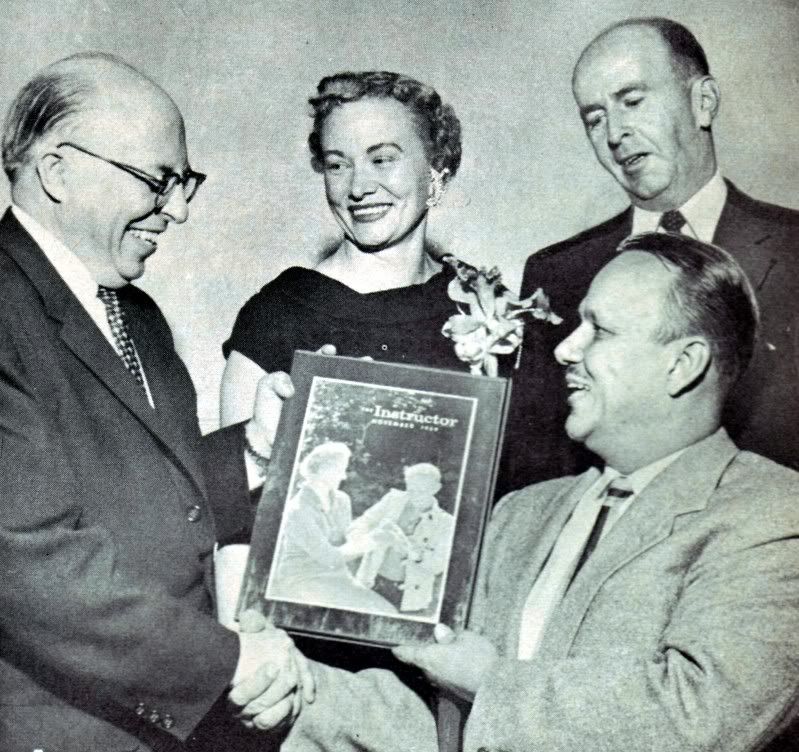 His informal, self-imposed Instructor duties included writing thank-you notes to every contributor, and carrying on personal correspondence with many of the stake "Instructor Use Directors" – an obsolete calling now, of course, but then an inservice position that involved helping teachers within each stake incorporate the techniques and materials provided by the Instructor. Boyd followed up on every complaint, whether it concerned an undelivered magazine or a problem with the magazine's content. In June 1965 when a reader complained that the Instructor used too many pictures of children on its covers, Boyd analyzed the covers that had been produced during his tenure. He found they had featured
89 children, consisting of 37 boys, 40 girls, 8 babies, and 4 student groups.

76 adults, consisting of 13 teen-agers, 8 fathers, 11 mothers, 36 unidentified adults, 4 teachers, 5 grandmas, 4 grandpas, and 1 missionary.

14 miscellaneous items such as 4 statues, 1 rocket, 1 thresher, 1 assortment of fruit, 1 group of covered wagons, 4 arrangements of flowers, 1 temple (Manti) and the World's Fair Pavilion.

37 animals consisting of 5 birds, 5 chicks, 4 horses, 3 ducks, 5 swans, 2 geese, 2 dogs, 2 sheep, 1 butterfly, 1 turkey, 1 pigeon, 1 calf, 1 chicken, 1 cat, 1 donkey, 1 ox, and 1 cute pig.
The record does not inform us how he responded to the complainer, but you can't say he didn't take the complaint seriously, or that he didn't investigate. (Also, it's good to know that it was a cute pig on the cover, isn't it?)
Boyd was not quite 49 years of age when he passed away in August, 1965. His good friend and fellow church worker, and an old Scout himself, Lorin F. Wheelwright wrote a hymn in Boyd's honor, recalling the hundreds of boys whom he had guided to independence and achievement through the Boy Scouts, as well as the tens of thousands of church members he had affected through his work on the Instructor:
Let's measure Boyd not by his years,
Nor by his glow of health;
Let's seek his size in the hearts of boys,
And the soul's eternal wealth.
The master's words that shaped his life
Glow bright for us to see:
"When ye give new hope to the least of these,
Ye do so unto me!"
In 2005, his wife and surviving son and daughter remembered Boyd with a tribute in the newspaper:
Boyd O. Hatch 1916 ~ 1965. Soldier, scholar, scouter, husband, father, humanitarian, the finest man I've ever known. It's been 40 years since your passing. We still miss your kindness and guidance every day. We know you and Brent are watching over us. Love always.