Below are outline drawings — ready to color — and verses printed in the Children's Friend in May, 1923. The theme for that month's lessons was "In Times of Distress," with the motto being "For the Good of All, Each Must Be Generous." Today seems a timely day to post these pictures, given one running theme of Conference that many of our brothers and sisters are in trouble and need our generosity.
Because the Primary was studying Church history that year, some of these drawings represent stories of the past. Others are contemporary (1923) scenes, teaching the children how they could reflect the self-sacrificing generosity of their people.
The boys and girls throughout the Church
Are glad to give their "bit"
To help support the Children's Home
And make the place quite fit.
For little children all should have
Good bodies well and strong,
Prepared to take a place in life
And help the work along.
'Twas in the year of Fifty-Six
That valiant Mormon Band
Was suffering for want of food.
A famine filled the land.
'Twas then the few who had supplies
Were glad to heed the call
Of neighbors who were in distress.
They shared with one and all.
The day the boys and girls love best
Within each happy year,
Is when they go around the ward
To give their neighbors cheer.
Some take provisions to the sick;
Some chop the neighbor's wood;
While others plant a garden that
Some widow might have food.
Relief Society sisters kind
Will always give a hand
To help those who are in distress,
The poor throughout the land.
They care not for the summer's heat,
Or for the winter's snow,
Just glad to render service sweet.
You'll ever find it so.
'Twas not so many years ago —
Perhaps you will recall
Those busy, anxious, fearful days,
Those times when one and all
Forgetting troubles here at home
Were glad to do their share
In knitting socks and sweaters for
Our soldiers "Over There."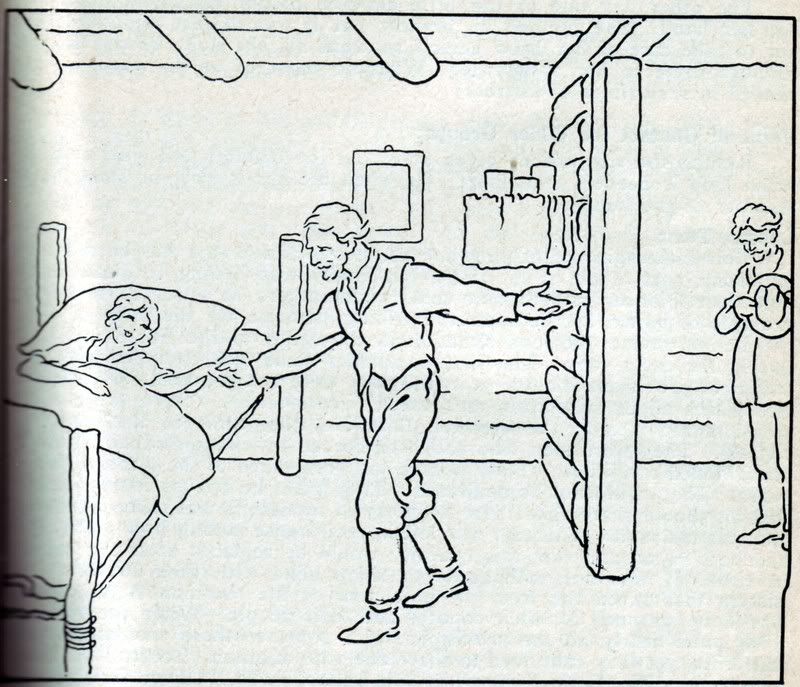 "My dear," said Brother L.D. Young,
"Our neighbor from the hill
Has come to purchase food supplies.
I told him you were ill.

"But he and others have returned
From service with the band
Of brave and true Battalion boys,
The finest in the land.

"And now they cannot buy supplies.
There's famine everywhere."
She said, "Although we've none to sell,
We'll very gladly share."