In March, 1923, our Primary children learned about the economic life of Latter-day Saints in the early years of Utah settlement. That might strike you as an odd facet of Church history for pre-teen children — but it makes better sense when you know that the underlying theme for all lessons that month was "He Who Honestly Helps His Neighbor Helps Himself."
As with all other chapters in this series, the drawings and poems below were published in the Children's Friend as teaching aids for the Primary teachers to color and mount, then use to illustrate the stories used to convey the month's message to the children.

For eggs Ruth bought a pretty dress,
And for potatoes new
Joe got a sack of kindling wood;
You'd hardly think it true.
But folks who lived in early days
No money had to spare
And things were bought and sold by trade
And barter everywhere.
"Come, Jane," called Mother, "You must go
To Brother Williams' store.
I thought I'd make a pie or two
And find I must have more
Of sugar, raisins, apples, too,
And meat fresh from the range.
Just take this new five dollar bill
And bring me back the change."
So Jane took brother by the hand,
And if you'll look you'll see
That when she shopped for Mother,
Jane was happy as could be.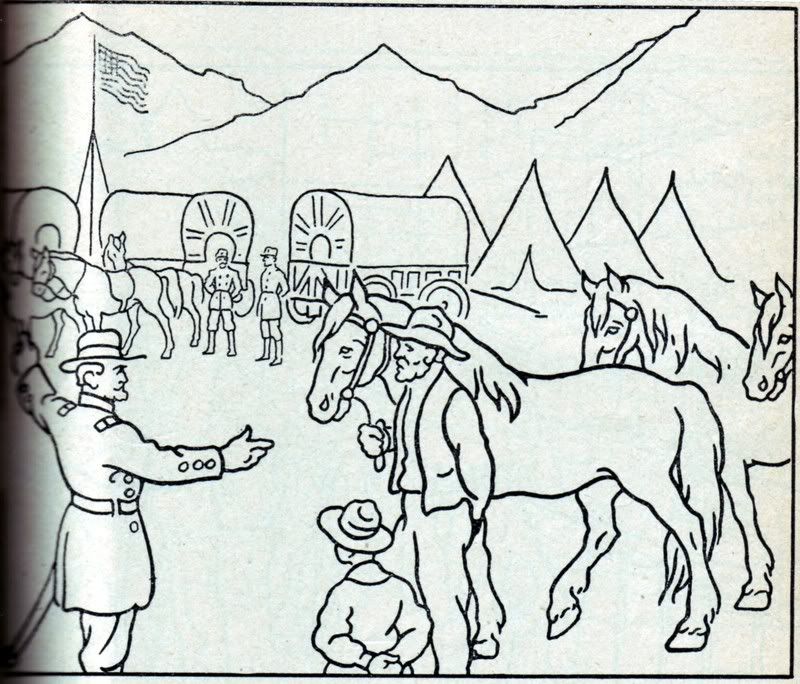 "Great quantities of fresh supplies,
And blooded horses, too,
In fact, most everything we have
We'll gladly give to you.
It's gold we started out to find
And, well, we must go through."
Thus greeted they the Pioneers,
These seekers after gold,
And so for ponies fresh and swift
All their supplies were sold,
And things were bought much cheaper here
Than in the East, we're told.
The cry of "Gold!" had echoed far,
And many had gone down
To seek a fair sized fortune in
Some California town.
When gold was found, the yellow dust
Was put in bags with care
To be exchanged for coins, or food
To eat, or clothes to wear.
Some cultivate fine sugar beets,
Some grow ripe fields of grain,
While others manufacture goods,
Or own long cattle trains.
Each does his share and thus the flag
Of commerce is unfurled,
And so, by fair exchange, each helps
To benefit the world.
"A share of grain and three good meals
Cooked by your daughter Sue,
And we will do the best we can
To thresh your grain for you."

Thus spoke Jim Green to Farmer Jones
As he with crew of men
Had come to thresh the Farmer's grain
And then move on again.

And so the bargain soon was made,
And each with laugh and song,
Performed the task assigned, and thus
They helped the work along.