Before there was Mark Hofmann, there was "Jim the Penman."
Jim – or James Townsend Saward – was an English barrister, active in the British law courts in the 1840s and '50s. This legal gentleman had a profitable sideline as a forger of checks. He was even involved in the gold theft that formed the basis of Michael Crichton's The Great Train Robbery.
After Saward was convicted and transported to Australia, the nickname was bestowed on Emanuel Ninger, a New York counterfeiter who netted an estimated $50,000 profit in his short 1880s career.
By 1886, "Jim the Penman" was the obvious name for the forger character in a popular New York detective play, a theater staple for the next quarter century. That story was filmed in 1915. And again in 1921. And again in 1947. And possibly other times that I haven't yet discovered.
So who is "Jim the Penman" who signed the bottom of this page, dated October 18, 1921, at Washington, D.C.?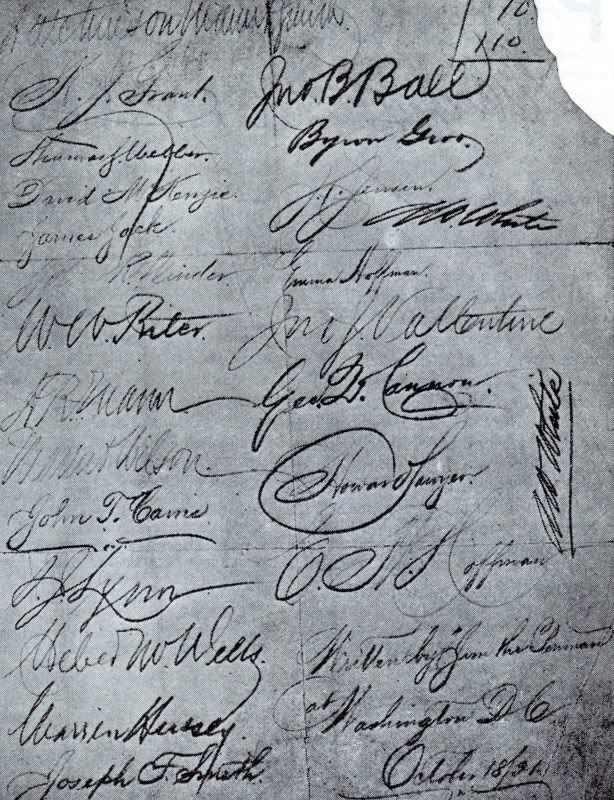 The page bears the autographs of men such as LDS president Joseph F. Smith, apostle George Q. Cannon, first governor of the State of Utah Heber M. Wells, former territorial representative to Congress John T. Caine, and more than a dozen others of Salt Lake City's top businessmen and women. And how did some of them – like Joseph F. Smith, like George Q. Cannon – come to sign this page years after their deaths?
Well, in October 1921, some businessmen from Utah went to Washington, D.C., to negotiate with the War Finance Corporation the loan of ten million dollars to aid the struggling sugar beet industry of Utah and Idaho. The meetings were long and tedious, and during one such meeting, "Jim the Penman" amused himself by doodling the autographs of these prominent men and women whom he knew so well and whose signatures had crossed his desk countless times. Noticing what he had done, the vice president of a Denver bank asked if he could keep the page for a souvenir.
A few years later, "Jim the Penman" negotiated another large loan, this time in Denver. One of the conditions of that loan was that he secure the endorsements of 20 leading Utah businessmen. He did. At a dinner concluding negotiations, this page of autographs from the 1921 meeting was produced, with the quip that no doubt "Jim" could just as well have produced 50 endorsements as the 20 that were requested.
In this case "Jim the Penman" was Heber J. Grant, president of the Church of Jesus Christ of Latter-day Saints. From childhood he had cultivated the habit of good penmanship, and from the time he was in his early teens he had been earning money by writing for those who prized neater, more artistic writing than most of us can muster. He wrote out invitations to parties and weddings, copied legal documents, inscribed insurance policies and stock certificates, and taught penmanship at the University of Deseret. Calling cards were another rich source of income:
I once made twenty dollars on New Year's day [he said] by writing forty dozen cards with 'Happy New Year' and the man's name written in the corner. The next New Year's day I made $37.50 in five hours. I wrote on fifty dozen cards the words 'Happy New Year' and sold them all, and had to write more.
Apostle Richard L. Evans wrote once that he had seen Pres. Grant write the autographs of other church leaders so perfectly that such men as John A. Widtsoe and James E. Talmage could not tell the difference between his forgeries and the autographs they had written with their own hands.

I don't know how he did it. I can't imagine him spending valuable hours tracing and perfecting autographs just as a party stunt. I suspect that his mind didn't see individual letters the way mine does, to be written one at a time in composing words and sentences, but that instead his eye saw signatures as a whole, as artworks to be reproduced the way some artists can copy sketches, without his mind telling his hand that "this is the way you make an H, this is the way you make a G …"

In any case, I'm glad this "Jim the Penman" was a man to be trusted!